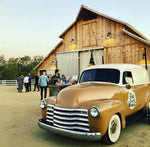 What is the difference between the service and style provided within the different popular party trends of today?
Mobile Bar
All of these vehicles, trailers and anything that gets a bar for a single event is in the mobile bar realm. So, everything that brings you alcohol can be a mobile bar, as the party can go anywhere! The difference is the style and freshness that it can provide for your guests with the service to match. What style of bar fits in the venue is key. Some backyards allow a Tap Truck Mobile bar while others have no space to fit even a cart in or out. Taking advantage of any mobile bar is an awesome choice!
A Piaggio Ape
Is a very popular style of commercial van that is found in Europe. It is produced by a European auto maker starting in 1948 to the present day from Pontedera, Italy. They were used as flower trucks, delivery trucks, but these days you can find them as a popular trend in the mobile bar arena. Some have four taps to as little as two draft faucets. They aren't the biggest vehicles by any means, and they aren't known for much speed on the freeway. Most times these trucks are trailered around as they can't haul too much too fast.    
Fun fact: Piaggio is also the manufacturer of these brands - Piaggio, Vespa, Moto Guzzi, Derbi, Gilera, Scarabeo and Aprilia
Trailer Bar 
Yeehaw! We got the horses in the back! Trailer bars very often in the beverage catering industry these days, have been found as converted horse trailers. Cute!  The trailers tend to create a nice counter area to which the bartenders standing in the back (cargo space) and can serve the guests on the ground. Some are really well built with gorgeous colors and woodwork. Some trailer bars even have a nice sink and draught system to which connect a few kegs. 
While we are on the trailer topic there are even campers plus airstream bars that can serve hard liquor and mixed drinks. There are even pink campers that only serve champagne on tap from the side of the hauler. Spiced up with some flowers some of these builds look great under an old oak tree! 
Tap Truck
A beer truck really encompasses the story of classic cars mixed with craft beverages. Something that gets the vintage Americana juices flowing in all of us. Speaking of flowing, literally anything can be tapped from soft drinks, beers, to mixed alcohol. With the full Tap Truck experience, we bring a mobile bar ready to house extra drinks and supplies for service. There is something about an old classic car that puts a smile on everyone's face, as gents want to look under the hood and the gals just need a picture pulling a tap. We love the experience that puts a smile on people's face. These days with so many Tap Trucks we love show casing our variety of colors, makes and models in our Tap Truck builds. 
We have to give shout out to VW busses that have been converted bars in true kombi fashion. Some are so cool with the roof popping off for a bartender. Get thirsty! 
Note: 
Divco Truck Bar
We wanted to give a shout out to very particular types of trucks, the Divco. These trucks are a delivery type of van that originated in 1928. In the 50's and 60's their most popular model came out that usually was refrigerated to deliver milk.  We had to give these trucks shout in the mobile bar stage because they are big beasts that can haul around quite the party. 
COE Trucks or One ton plus Trucks
Lastly, we wanted to drop a note to even bigger badder trucks. COE means cab over engine, which means it is like an older looking semi-truck. There are some major builds we have seen and sometimes these vehicles have a nice solid diesel cranking out some power for all of us to hear. They are a pretty cool look and one of a kind that can again carry quite the party.