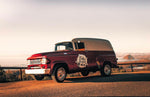 TV shows that get the classic car juices of Tap Truck flowing! 
What an awesome age we live in to be so entertained by streamed cars being built. Heck today's world if you need to figure something out mechanically there are entire truck builds and repairs found on YouTube. TV is where you can find entire stations dedicated to producing classic car and truck builds from start to finish. Some of the adventures are incredible. The builds are so satisfying to watch in the course of an hour, and the truth is certain cars could have even taken a year! 
Here is a run-down of our favorite TV shows, we still haven't seen a beer truck build yet!...
#8 Rust to Riches -  Mark Towle of Gotham Garage
So entertaining. The builds are out of this world. Not so much our favorite style, but some of these cars take you to another planet. One show they turn a 1964 Ford Thunderbird into a bonafide "rocket car." Wild! The show is well filmed and produced to show quite the story with characters like Caveman wrenching down on work regularly.
 #7 Counting Cars - Danny Koker 
"The Count" Is a one of a kind. This dude has that classic darker build type of class to everything he does. Meaning he likes skulls and cobwebs baby! The icing on the cake is his amusing team found in each episode with Scott and Horny Mike. We love some of these builds and appreciate the amusement! A really interesting show they did was when they blacken re-chromed a 1962 Cadillac Coupe Deville. It blew our minds! 
 #6 Fast and Loud, Richard Rawlings found at Gas Monkey Garage
Wow, Richard, what a character. This guy is tough to keep up with. What an awesome empire he has built! Sometimes we find ourselves s little lost in his builds and it seems he really tosses some money around these days but hats off to what he has accomplished with the show! Our favorite truck is his 1976 C10 that was built to perfection. The drivetrain, the suspension, no cost was spared. On some sad news, the poor truck was wrecked just last year, but nevertheless we had to give it the shout out it deserves. 
 #5 Overhaulin - Chip Foose
Legit!   Chip is so real and has paved the way for incurable designs and restorations for years and years. That ranks so well on our list!  His quality is so high it always shows in his builds that go toward a great cause. We would love to meet Chip and the team someday. The Legend of customizing and restoring since the time he was born. True champions at the wheel and on the wrench. Our favorite build was a 1967 Chevrolet C/28 that was very tastefully done. 
 #4 Diesel Brothers - Dave Sparks (Heavy D), (Diesel) Dave Kiley
So, flipping funny these clowns are. Though diesel is not as much our forte, nor lifting trucks, we had to give this show a shout. I think Diesel Dave is one of the funniest cats we have watched on television. Heavy D is always keeping a solid vision on the build, while the rest of the squad shows off creative ways of working and challenges for all to enjoy. The Workhorse was a truck they built that almost seems bullet proof. That was our favorite one in between the laughs. 
 #3 Bitchin Rides - Dave Kindig
Dave has a magic eye without a doubt! The quality and vision developed from scratch time and again is seamlessly awesome. He truly has some original ideas that put a smile on the client's face.  It is very fun to watch Kevin Schiele and Dave get into it along builds, the brains vs the muscle. A favorite ride of ours done by Kingdig it Designs is his retromod build of a 1957 corvette. What a gorgeous one of a kind vehicle. This would be an experience to drive! 
 #2 Chasing classic cars Wayne Carini
Wayne seems like such an awesome guy, and the most incredible part is how clear it is that he is a smart dude. He is like a walking museum on the show every time he speaks up. The old one of a kind pieces found on his show create such great stories. Building Pride and joy one episode he helped the red cross alongside a 1970 Chevrolet C10. Gorgeous! The only reason this show comes in second on our list is that we don't catch as much building / restoring going on. 
 #1 Fantom Works - Dan Short 
Somehow, some way this great show finds itself at number one on our list. Dan seems so knowledgeable on cars and seems to hold great integrity in fixing things the right way. We have great respect for such actions in business especially in as tedious process like fixing someone's else poor build before. The show also walks a nice line in what is really going on in the process of a build. Show and working through or around problems that arise which is a normal occurrence in the industry. We like! Dan and the team restored a 1961 International Harvester Metro to mint condition. The build was so well done it took two episodes for all to enjoy. We did!