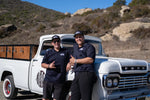 Based over in Newport Beach, CA, Will Castelblanco and Garrett Pore are 100% committed to the art of the perfect pour. These two long-time best friends go above and beyond to ensure that all of their customer's expectations are not only met but exceeded. Since becoming a part of the Tap Truck Family in 2020, Will and Garrett have put their own unique spin on Tap Truck services, making this business truly their own. By offering extra add-ons like corn hole, milk/boba tea, cold brew coffees, kombucha, and much more this team makes sure that everyone's flavor palette is covered! 

 
Tap Truck Orange County is a rising star over here in California, expressing that "Tap Truck USA not only offers a unique way of achieving financial freedom during this crazy time in the American economy, they provide an experience. One of grit, determination, and commitment that beacons the call of craft beer and automobile enthusiasts across the country. We are blessed to be part of the family in the worthy pursuit of beverage service operations. We are not in the business of selling drinks, we are in the business of creating memories". 

We couldn't have said it better ourselves! From all of us here over at Tap Truck USA, we are beyond grateful for your dedication and enthusiasm to the brand, the family, and the business. Cheers to many more years of fun and good times to come!
___________________________________________________________________________________________________________