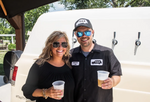 As the leaves begin to turn and temperatures drop, it's time to come together as a family and celebrate one of our Tap Truck USA branches that continues to push innovation and capture the hearts of many! In this September edition, we are proud to shine a spotlight on Tap Truck Fort Myers! 
Nestled in the heart of Florida's Gulf Coast, owners Frank and Debbie Frederick have been serving up the best craft brews and cocktails since their humble beginnings in Florida. With their dedication to vintage vehicles and craft beverages, this dynamic duo brings a refreshing twist to the region's thriving event scene! Tap Truck Meyers truly can do it all from weddings and private parties, all the way to fun community gatherings! 
Frank and Debbie came across Tap Truck USA through a social media post. Frank describes how "once I saw vintage trucks and beer, I had to know more! I did a Google search and started looking at Instagram and TikTok. Once I found the Tap Truck USA website and saw that there was a way to get involved, I ran into Deb's office and said 'You have to see this'"! The happy couple then embarked on their journey,  loving the fact that through Tap Truck, they could combine two of their favorite interests: old trucks and beer! Debbie and Frank launched their very first beer truck, a beige and white 1956 Chevy Panel Truck with one of the most powerful engines in Tap Truck history!! This beauty is running on a 600+ horsepower engine thanks to a sweet engine builder recommendation from Dave Skinner over at Tap Truck Bowling Green! Tap Truck Fort Myers even has an official support vehicle named Beaufort, a 1969 Chevy C10 pickup that previously accompanied their main vehicle to events! 
The couple took a leap of faith to start Tap Truck Fort Myers, as Frank left a very lucrative position in the natural gas industry to move all the way from Pennsylvania and find a new beginning. Deb headed south in 2020, getting a lay of the land before Frank joined her in 2021! The couple have always been entrepreneurs as they previously owned a metal sign shop and even made wine with the intention of opening a winery! With a keen eye for business operations, Frank and Debbie's roll of the dice paid off as they pursued their passion for entrepreneurship in Florida with Tap Truck Fort Myers in 2022! 
The couple have been married since 2014 and are a blended family of five! Deb's main job is currently in banking as a remote mortgage underwriter while Frank's full-time job is running his own home inspection business! With a keen eye for all things business, Frank and Debbie have plans to expand their Tap Truck empire into a fleet of multiple beer trucks and make it their full-time job! 
With the charming blend of sun-soaked beaches and a burgeoning craft beer scene, Frank and Debbie were quickly connected to their local community through the inception of Tap Truck Fort Myers. They state that "being new to the area, we didn't have a ton of friends or social contacts, so we figured this would be a great way to immerse ourselves in the community". Currently, Tap Truck Fort Myers and their beer truck serve the greater Fort Myers area, Lee County, and many other places in Southwest Florida! Frank and Debbie are dedicated to every single event they run. They express that "we love to have a good time, and what better way than to be at fun events, weddings, etc., than having the most unique bartending set-up anyone has ever seen?". 
Embracing the community-centered life in Fort Myers, Frank and Debbie love to work with a vast spread of local breweries to support the city's thriving craft beverage scene! One of their favorite local breweries to work with is Eight Foot Brewing in Cape Coral! The couple writes that "we feature their beers whenever we can and have partnered with them for a couple of local events that have been very successful! Our last event with them got some great local TV coverage, being seen by more people than we could ever reach through social media at this point". 
Tap Truck Fort Myer's amazing work with breweries and clients, clearly did not go unnoticed by the TV viewers as they are packed with weddings for the next few months and even have a huge wedding expo coming up in which they expect to be fully booked up for next season! Along with weddings, one of the more unique and niche types of events that Tap Truck Fort Myers caters to are community parties. Seeing as Southwest Florida is jam-packed with private housing plans, Frank and Debbie are able to capitalize on this market and work many community-focused events within the neighborhoods themselves. Their first large community event took place in the beautiful neighborhood of Babcock Ranch and has already yielded another booked date with another local community! Frank and Debbie joke that "people here love their gated communities"! 
The team works with many local venues to make every person's celebration day dreams come to life! Frank and Debbie describe how A-Line Ranch, a wedding venue north of Fort Myers, was eager to help them kick start their business as the owner, Amy Hogan, and the ranch's preferred planner, Lexi, from Lexi & Co Events, accepted them with open arms right after the beginning of their beer truck business! Tap Truck Fort Myers is proud to share that they will be doing five weddings there this season! This seems like the perfect place to celebrate and tie the knot to us! 
One area Frank and Debbie would like to tap more into is corporate events. Corporate gatherings with Tap Truck are a great way to boost morale and encourage networking among employees. One of the many benefits of having Tap Truck at your event is that it serves as a central focal point and a conversation starter, creating a more engaging atmosphere for everyone to enjoy! This sure-fire way to demonstrate to your employees that your company values their hard work and is willing to invest in creating enjoyable experiences for them!
Frank and Debbie have overcome many battles to pursue their passion project with Tap Truck Fort Myers. On September 22, 2022, the couple lost everything, including their home, to Hurricane Ian. Their entire property was under eight feet of water, leaving all of their belongings, including their 1965 Tap Truck, in ruins. Luckily they called over an amazing mechanic who went through the truck top to bottom, drained it out, and fixed it right up! Within a little over three weeks, their beloved beer truck was returned to them in pristine condition! Their supporting star of the show, Beaufort, unfortunately, was not as lucky and is still having issues getting up and running. While Frank and Debbie admit that they do have some mechanical issues from time to time, they joke that "it makes for quite a good bar conversation when we mention that the truck serving you was underwater during the hurricane"! Their beer truck has made it to every event since it was returned to them, making it known that their dedication to the community is of utmost importance during times of hardship and trouble.  
While the couple were able to quickly rescue their Tap Truck, unfortunately, they were not so lucky with the rest of their belongings. Frank and Debbie state that "the last year has been an enormous challenge for us personally…it has been a year of rebuilding and personal growth. We have stayed with neighbors and friends, lived in someone else's condo, spent three months in a travel trailer in our driveway, and in our tiny guest house while our main house is under reconstruction. Coming up on one year since our whole world was turned upside down, we are just about ready to move back into our house and regain some sense of normalcy". 
From the depths of our hearts over here at Tap Truck USA, we are beyond honored to have Frank and Debbie on our side and a part of our team. Your strength and determination to prevail is truly one of a kind. We are overwhelmingly grateful for the presence of Tap Truck Fort Myers in our ever-growing community. Their unique blend of exceptional service, craft beverages, and genuine passion for creating unforgettable experiences has elevated countless gatherings. From intimate celebrations to large-scale events, Tap Truck Fort Myers consistently goes above and beyond, leaving a trail of satisfied clients and cherished memories everywhere they go. 
Their dedication to excellence and unwavering commitment to making every event truly special is nothing short of extraordinary. It's abundantly clear that Tap Truck Fort Myers isn't just a beer truck or mobile bar; it's a team of individuals who pour their hearts and souls into ensuring that each gathering is a success. 
Tap Truck Fort Myers's presence in our Family is a true gift, and we are endlessly grateful for the joy and magic they bring to every event they pour at! So please join us as we raise a glass to Frank and Debbie, may this year be nothing short of a success for you both! 
To stay tuned with the journey of Tap Truck Fort Myers, be sure to give them a follow on Instagram and Facebook. If you're in the Fort Myers area, give Frank and Debbie a call to have their famous beer truck at your next event! 
To become your very own mobile bar boss like Frank and Debbie, click here to learn more about this entrepreneurial endeavor we have for you! 
Until next time, Cheers!
------------------------------------------------------------------------------------------------------------------------------------------------------------