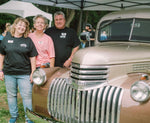 It's time to TAP in for another amazing "Branch of the Month" spotlight, where we delve into the vibrant work of Tap Truck USA licensees and our many diverse branches that bring communities together. This month, we're thrilled to turn the spotlight on Tap Truck North Carolina, where the best beers and celebrations flow as freely as the drinks they serve! From the picturesque landscapes to the heartwarming connections forged, join us as we uncover the unique essence that makes Tap Truck North Carolina a true standout in our growing Tap Family! 
Allow us to introduce the infamous Tap Truck North Carolina owners: Chris, Jim, Tonya, and Tim who all believe success is better shared with people over a nice cold brew! These fine folks have a long-standing history as Jim and Chris first met in high school, while Tim and Tonya's relationship traces back to their middle school days! The bond between these two couples has flourished for nearly two decades and gives the saying "never go into business with family or friends" a run for its money. Jim, Tim, Tonya, and Chris have successfully owned five businesses together, Tap Truck North Carolina being their latest. How lucky are we?! The gang explains that "In 2018, we owned Raleigh Brews Cruise (plus a couple of kid businesses… we've always said kids will drive you to drink). Our Raleigh Brews Cruise clients asked if we'd put kegs on the bus (no), but it got us thinking. We're always looking for something new, found Tap Truck USA, and gave Corbin and Taylor a call". 
From buddies to business partners, these four are dedicated members of the Tap Truck USA Family! Driving down memory lane, the team's very first truck was built in sunny San Diego and is a sweet-looking gold and brown 1946 Chevy Panel truck named Ramona! Their love affair with vintage trucks only grew stronger as during the build-out of Ramona, they picked up a sleek satin black 1954 Ford Panel named Mo from a showroom in Missouri. After their first two, they went on to add Peter, a 1935 all-original Ford Stakebed, and Richie, a 1951 Ford Panel truck. You would think the list would stop there; however, the Tap Truck madness is never-ending for the North Carolina team as they are now the proud owners of FIVE Tap Trucks with Tully, a 1946 Ford Panel being their latest addition! When asked if they had any upcoming plans for more trucks, Chris jokes "I obviously have an addiction and am no longer allowed to look at Facebook Marketplace".  Chris, we hear you over here at Tap Truck USA, clearly our obsession with the charm of vintage vehicles runs deep too! 
 With five trucks each equipped with free-flowing taps, Tap Truck North Carolina is a force to be reckoned with. They've done events all over North Carolina from Raleigh, Durham, Chapel Hill, Charlotte, Pinehurst, Nags Head, the Outer Banks, and Greensboro. With a fleet of vehicles, this team is unstoppable, traveling from the mountains to the coast and even up to Washington, D.C. to ensure that everyone in their area is able to experience a little Tap Truck magic in their life! 
Embracing the heart and soul of North Carolina, Tap Truck NC has become an integral part of the region's vibrant festival scene. Annual gatherings like Raleigh's Brewgaloo, Spring Fest, and the First Fruits Memorial Day Balloon Festival have become synonymous with good times and craft beer from Lonerider, Tobacco Wood and Clouds Brewing thanks to the unique touch that Jim, Tonya, Chris, and Tim provide! However, this team's commitment to the community goes beyond fun festivals and events. At Tap Truck North Carolina, giving back is a core value. They actively support and stand shoulder to shoulder with the Frankie Lemmon Foundation for Children with Developmental Disabilities, answering whenever they call! 
Tap Truck North Carolina also works with many local wedding venues and planners to help make people's special days come true! They bring an enchanting blend of vintage charm and refreshing drinks to every occasion. Their five Tap Trucks are adorned with rustic elegance and serve as a unique centerpiece that captures attention and hearts alike. With a diverse selection of craft beer, cocktails, and ciders on tap, each pour becomes a moment of indulgence, sparking conversations and adding an element of novelty to any celebration. Tap Truck North Carolina doesn't just serve drinks, it crafts experiences and memories that linger long after the last sip of beer. Whether it's a wedding kissed by Southern romance or a lively party brimming with energy, the NC squad transforms any event into a one-of-a-kind affair, leaving an impression as timeless as its vintage wheels. 
With each pour, Tap Truck North Carolina serves a piece of their passion for vintage vehicles and good times. Throughout the years of their experience within the beverage industry, the team has formed many close connections with local breweries, and love to pour Bull City Ciderworks and Raleigh Rums anytime! From the first golden hue in the glass to the last satisfying sip, Team NC's select beer, wine, cocktails, mocktails, hot beverages, and even craft root beer, are a celebration of great flavors and even better connections!
Tonya and Chris embody the spirit of dedication and leadership within the mobile bar industry. As proud members of the Pink Boots Society, an organization celebrating women in craft brewing, their passion drives them to elevate the craft beverage experience. On top of this, their long-standing affiliation with the NC Craft Brewers Guild demonstrates that their journey in the beer scene is a passion. Through every festival, every gathering, and every drink poured, Tonya and Chris's involvement is living proof of their unwavering commitment to quality, community, and excellent beer! 
The Tap Truck NC team's drive and dedication to their business cannot be understated. Sharing their journey openly, the group writes that "2023 has been a challenging year for us personally. We have been working with a business mentor who has really made us look at all aspects of Tap Truck NC - and it's exhausting"! By stating the importance and hard work of fine-tuning their business, they further describe that "it's tough to work ON your business while you work IN your business."
We are so honored to have Chris, Tonya, Jim, and Tim as a part of our Tap Family here at Tap Truck USA! Their journey is a testament to their grit and sheer dedication to the business that they love. They share that "We are fiercely brand loyal. When Corbin talked with us about the 'secret sauce' way back when, we took him seriously". Through sweat, persistence, and a shared vision, Tap Truck North Carolina has weathered the challenges and embraced innovation, channeling their passion for beer and community into a thriving business! 
This powerhouse team leaves an impressionable mark on our hearts and exemplifies everything it means to be a part of the entrepreneurial Tap Truck USA team! Let's raise a glass to Chris, Jim, Tonya, and Tim who know how to make the Carolina blue skies shine a little brighter!
The dedicated group of friends and fantastic business model from Tap Truck North Carolina truly lights up Team USA, spreading inspiration to us all! We're thrilled to have these four amazing individuals shining bright in North Carolina, where vibrant culture and southern charm meet! 
Tap into Tap Truck North Carolina's journey to follow their adventure and fun on Instagram and Facebook! If you're in the North Carolina area, book with Team NC today and pick from one of their five beautiful Tap Trucks for your next event! 
Looking to become your very own Mobile Bar Boss? Click here to learn more about this entrepreneurial adventure we have for you! 
Until next time, cheers!