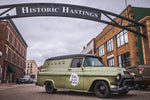 As our family here at Tap Truck USA continues to expand, we value all of our esteemed branches' determination, allegiance, and love for beer! Every month we love to showcase one of our many exceptional branches to acknowledge their grit and passion that help keep the Tap Truck USA family strong! For the month of April, we welcome you to explore the ins and outs of Tap Truck Midwest!
 
Through the rolling hills of the Midwest, Nicole, and Bernie White truly capture what it means to be a part of the Tap Truck family: providing top-quality service and top-quality fun at every event. This husband and wife duo are the proud owners of the infamous "Green Goblin"; a 1953 GMC Panel Truck that can be heard rolling down the street from miles away. This monster of a truck is loaded with 5 flowing taps, ready to take any event to the next level!
As a mother, Nicole is an inspiration to us at Tap Truck USA and a true social butterfly with mad organizational skills. She enjoys writing, weightlifting, beer (although they don't often go hand in hand), video games, traveling, and wine with friends. Nicole even jokes that one of her favorite simple pleasures is "listening to her latest favorite song over and over again in the car while alone. Doesn't everyone do that?". Bernie is Nicole's number one supporter and doting husband to their family! While he still works the corporate life, he is the hardest worker in the room at Tap Truck Midwest putting in the background grunt work! As a man of great taste, Bernie enjoys a good old fashion, porters, traveling, and 80's punk rock music! Jamming out to their favorite tunes, Nicole and Bernie are ready to face the day head-on and hit the road with the Green Goblin!
Nicole started her journey with Tap Truck USA back in 2020 during the COVID-19 epidemic. Right before COVID hit, she quit her six-figure salary job as a technology program manager for a fortune 500 company to pursue her lifelong passion for entrepreneurship. Trading money for memories, this newfound freedom allowed her to reconnect with her life at home and reset while being a stay-at-home mom. Nicole jokes that "I went from managing $100 million dollar projects and multiple resources to being micromanaged by a demanding toddler"! This experience truly grounded Nicole's soul and pushed her to accomplish more not only for herself but for her loving family.
Funny enough, Nicole stumbled upon Tap Truck USA "on a whim or perhaps fate" through a Facebook article of all places! After reading the article, she knew instantly it was the right fit for her. Long before the craft beer boom, Nicole had been fascinated with the art of drinking, brewing her own 7-gallon batches in her basement! She believes "there is something special about having good conversations with your friends and a glass or two of your favorite drink in hand that just brings people together". Combining her love and passion for interacting with people and craft beer, Nicole and Bernie set out to join the Tap Truck USA family and dominate the Midwest.
In America's heartland, Tap Truck Midwest is currently based out of Hastings, Minnesota. Nicole and Bernie are "willing to go anywhere and everywhere for a good time!" and have catered many events out in St. Paul, Stillwater, Carver, Red Wing, Anoka, and Edina.
To them, the location is no factor; as their slogan goes "You invite 'em, we'll serve 'em"! Tap Truck Midwest serves all types of events such as nonprofits, fundraisers, markets, and even a beer run! They strive to bring refreshing, chilled beverages to any kind of gathering and have hopes to cater for a celebration of life and private events as well! Nicole and Bernie truly share their passion every day the USA way, as they love "the joy it brings to people. The social aspect. The togetherness. And just the uniqueness of the truck serving drinks right out of the side"!
Tap Truck Midwest provides you with a little bit of country, a little bit of city, and a little bit of everything in between. Working out of Hastings, they serve customers all the top-notch beers, wines, and ciders their heart desires. Their local brewery, Spiral Brewery is the go-to spot with its famous Hazy IPA "Mississippi Fog" and Kolsch "Townie" always on hand
They are always on the hunt for more new and unique beers and have recently been obsessed with Venn Brewing and Wild Mind Ales, stating that not a single beer they've tried from there has disappointed them. Some of the most delectable brews that Tap Truck Midwest enjoys from these two breweries are "Hawaiian Hog", a smoked wheat ale with refreshing pineapple (Venn Brewing), and "Book Mobile", a fun smoothie-style sour Ale (Wild Mind Ales) that is sure to knock your socks off! Nicole and Bernie love trying new experimental brews and adore the La Dona Cerveceria for their smooth "Dona Fria"; a classic Mexican Lager with flaked maize, subtle notes of toffee, caramel, and corn notes with a hint of cascade hop aromas!
On top of the many breweries and beers that Tap Truck Midwest enjoys, they also share their love with many of the local wineries in the area such as Schwarm Vineyards, a full-production working farm winery and tasting room. Sovereign Estate, located on the north shore of beautiful Lake Waconia. Parley Lake Winery, 125-acre vineyard, and orchard. And Alexis Bailly Vineyard, Minnesota's original winery! Nicole jokes that while nothing beats California wines, "Minnesota is doing its due diligence in redefining how grapes are grown and how to survive climate change. It's pretty cool to see"! Being typically known for its sweeter wines, Minnesota has upped its game and is crafting some cold-hardy grapes, such as Frontenac, to appeal to all the wine lovers out there!
While all of us here at Tap Truck USA enjoy a nice hardy pint of beer and a classy glass of wine, we equally enjoy a nice crisp cider! Tap Truck Midwest carries on this notion as they provide top-quality cider from their area. Sociable Cider Werks is located in Northeast Minneapolis. Milk and Honey Ciders, a farmhouse cidery, and an orchard. And Urban Forage Winery and Cider House, a cozy taproom in the heart of the Twin Cities. Many of the cideries that Tap Truck Midwest works with offer luxurious wedding venues, private events, and many fun activities, such as pickle-ball matches at Minneapolis Cider Company! Incorporating diverse beverage options allows Nicole and Bernie to satisfy the needs of all of those attending a special event!
Included in this wide variety of drink choices at Tap Truck Midwest is a nice chilled shot of liquor to soothe the soul. Known for its amazing gin, Du Nord Social Spirits is frequently in rotation with its many unique flavors such as the rich Cafe Frieda Coffee Liqueur with hints of orange and the freshly pressed Pronounced Apple Liqueur that is spiced just right. On top of this, Nicole and Bernie work with Norseman Distillery, the first legal distillery in Minneapolis since prohibition. Tattersall Distilling, distillery, and tastings in an industrial-chic cocktail room. And 45th Parallel Distillery which carries everything under the umbrella from tequila to whiskey! Through all of these beverage options that Tap Truck Midwest provides they are able to genuinely bring the Tap Truck USA experience to anyone with a reason to celebrate!
Tap Truck Midwest leads the way with its ambition and aims to work with Minnesota's professional hockey team, the Minnesota Wild, and its football team, the Minnesota Vikings! Nicole exclaims that she loves "the intimacy of the smaller events because you get a chance to connect with people more, but I also like the energy of the bigger events as well"! The Whites look forward to catering events at Furber Farm in Cottage Grove, and Circle B in Isanti for weddings and private events and aspire to see the Green Goblin at Pinewood Weddings in Cambridge! To the Midwest team, the weather is no obstacle; "Minnesota is stunning year-round, even in the dead of winter"! They even recently had the pleasure of serving outside on a 10-degree day at the stunning Lake Harriet and reported there was more laughter than there were shivers! Tap Truck Midwest is one for quaint, unique venues or simply any kind of outdoor event!
Known for its industry, and residents with friendly, down-to-earth attitudes, the Midwest will make you feel like you're riding off into the sunset! We here at Tap Truck USA are honored to have Tap Truck Midwest as a member of our growing family! Serving the best beverages to warm-hearted people is both their business and their pleasure. It cannot be understated how grateful we are to have Nicole and Bernie on the Team and we are giddy in our seats with anticipation to see all of the next great things they will accomplish!
Be sure to stay posted on their adventures by following them on Facebook and Instagram! If you're located in the Midwest region, be sure to book your next event with Tap Truck Midwest to see the Green Goblin herself and sip on some refreshing brews to create the most unforgettable moment!
If you're interested in becoming your very own mobile bar boss like Nicole and Bernie, click here to learn more about everything that we at Tap Truck USA have to offer you!
Until next time, cheers!