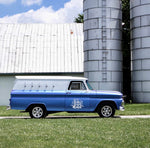 Ready to learn about two boss ladies? Then let's meet Tap Truck Kentucky! Owned and operated by the beautiful Liz Reeves and Rianna Gayheart. This duo wanted to bring a Tap Truck to Verona, Kentucky after they stumbled upon Tap Truck USA during their research to start a new business together. It only took one screenshot from the Tap Truck USA Instagram sent via text message between the ladies that got the beer truck concept rolling as their new business plan. Before that moment, all of their business ideas revolved around the beverage industry due to their shared passion for discovering local and unique beer and wine. They wanted to start a business that would incorporate wine, beer, and spirits from their favorite local brands while implementing a concept that would still be unique, fun and a perfect fit into what they organically love. So naturally, the Tap Truck was a perfect fit.
To learn how these ladies got to this life changing point we should start at the beginning. The year was 2012, when a previous basketball player from Cleveland, Ohio and a point guard from Owenton, Kentucky stepped foot on campus at Northern Kentucky University. The two began their collegiate basketball careers and starting as teammates on the court would quickly grow into a life-long friendship. Their mutual love for breweries, wineries, traveling, live music, and basketball would only strengthen their friendship and the ladies learned that they shared so much in common. After college, Rianna accepted a teaching job while Liz began her career as a Quality Engineer. As luck would prevail, the two ended up accepting jobs in the same town! 
As the years passed, they would occasionally toss around the idea of doing something new. They asked themselves what could they do that would showcased Rianna's strength with organization and witty comebacks, along with Liz's "nerdy" mind for engineering and sub-par comedic remarks? Well again, the answer to that question was to start bartending, and to bartend specifically for Tap Truck KY! Liz and Rianna are now so excited to begin the next adventure of their friendship while also providing Kentucky with an awesome experience that includes classic trucks, good times, and of course, cold brews.
One thing you will find Tap Truck KY providing for their events other than local cold brews and wines is ice cold bourbon on draft for their craft cocktails. If it's a bourbon sour or even simply and ol' fashion, these ladies will have you covered. When not pouring bourbon, they love to pour Country Boy Brewing Company's beer - the Cougar Bait (Rianna's favorite), along with Braxton Brewery, West 6th Brewing, and Wooden Cask Brewing Company. Some of the wineries the gang likes to represent are wines from Verona Vineyards, Elk Creek Winery, and Brianza Winery.
They travel all over Kentucky in their gorgeous lavender colored 1964 C-10 Chevy Panel truck that is equipped with five taps. Previously, the duo has poured at the castle in Lexington, the old capitol building in Frankfort, and Hotel Covington just to name a few. Also Tap Truck KY looks to support all of their professional, semi-professional, collegiate sports teams. Pouring for the semi-pro baseball teams like the Louisville Bats and their alma mater of Northern Kentucky University. These ladies are here to supply the booze and ensure an incredible experience for their clients and guests. The two plan to keep Tap Truck at future events including weddings, private parties and sporting events. Tap Truck KY is in such demand that they will need a second truck in the near future. Liz and Rianna already have their eyes set on a classic 1952 panel truck. Tap Truck USA is very proud to have these intelligent and outgoing women owning and operating the Tap Truck KY branch. Please be sure to check out their website and Instagram to learn more about their amazing story.