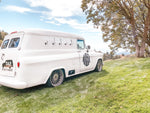 Meet Tap Truck Inland Empire! Owned and operated by two entrepreneurs Joe King and Chris Cloes. The duo met in the early 2000's at a mutual friend's bachelor party. They found that they had similar interests and quickly kicked off as friends. Going from longtime friends, roommates, and now business partners of Tap Truck IE, the boys can be found cruising the streets in their 1956 Chevy Panel. Joe and Chris have worked extremely hard to restore their beautiful off white 1956 Chevy Panel that is equipped with a LS 6.0 engine. This truck has some major horsepower to haul any keg and pour out of its 5 taps for your next event.
Starting at the beginning of Joe and Chris's business partnership, we have to go back to 2011. It was then when they both fell in love with the fitness program "CrossFit" and decided to dedicate their lives to opening the best CrossFit gym within their area. They started by bringing some hand-me-down equipment to Joe's dad's backyard along with 2 potential gym members for their first work out session. Moving forward in time to this day, they have successfully opened a state of the art 10,000 sq. ft commercial space facility with the best gym equipment and coaching in the industry. Their hard work and passion for CrossFit has built their clientele list to over 250 members!
A key to their success has been their commitment to the local community. They are constantly reinvesting and giving back to their community, especially by hosting local events. From planning and throwing these events, this is where the entrepreneur duo saw an opportunity for another potential business venture. Scrolling through Instagram Joe and Chris found Tap Truck USA Mobile Beverage Catering. They had never seen a business concept so unique and eye popping. They quickly reached out to receive a quote for their next Block CrossFit Anniversary Party. One thing lead to another and now these two are the proud owners of Tap Truck Inland Empire and part of the Tap Truck USA family. These men are now ready to serve all over their territory of Riverside and San Bernardino County in California, which includes Fontana, Moreno Valley, Rancho Cucamonga, Ontario, Corona, Victorville and Murrieta.
Tap Truck IE can frequently be found running events with their Tap Truck along Route 66. This route is a big staple within the Inland Empire and the craft beer scene has been steadily growing in popularity over the past several years in this location. Some local breweries that Tap Truck IE loves to pour from their truck is Hanger 24, Ritual Brewing, and Escape Brewery. Joe and Chris love to drink Hanger 24's Orange Wheat and IPA Betty, along with Ritual's Hop-O-Matic and Ritual's Red. There are many venues and locations where Chris and Joe love to pour these delicious beers. One of the most iconic venues would have to be Riverside Mission Inn or downtown Redlands. Lake Arrowhead and Oak Glen are also fantastic areas they love to work in. 
The Tap Truck IE branch has great experience with customer service and making sure everyone who participates within their events is taken care of. Both Joe and Chris are family men and treat their clients as such! Joe has been married to his wife Ashley since 2017. They have a beautiful son named Barrett. Chris has been married to Sarah since 2011 and together have three children; Ryder, Knox, and Helena-Blaine.  Tap Truck USA is very happy with Tap Truck IE's hard work and tremendous growth. We are very lucky to have them to be part of the family. Please be sure to check out their website and follow Chris and Joe's journey of life within the Tap Truck family.