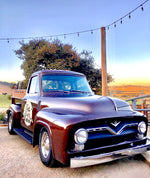 Long time Tap Truck fan, Tiffany Hunsaker, made the leap to join the Tap Truck family and launch Tap Truck Houston! Her decision to join Tap Truck was destiny in the making and her early life experiences paved the way to her becoming a successful business owner in Tap Truck. Ever since childhood, Tiffany new one of her greatest passions was to party and celebrate life. Instead of spending the time to enjoy being a guest at a party, Tiffany would always watch the host and study the back of the house; taking notes and watched the host effortlessly ensure that every guest had the best experience. She loves to spend hours planning every tiny detail for her own events. Growing up with 3 brothers and 4 sisters, Tiffany had her hands full every year honing her craft and planning the parties for her siblings.
As a child, she moved a lot throughout the Pacific Northwest and with that, she didn't have many opportunities to make life-long friends. Thus, Tiffany would plan events (many times without the permission of her parents) and invite the whole block so she could have the opportunity to meet new friends. All the while, Tiffany would gain hosting and event planning experience without even knowing it!
With her childhood wrapping up, Tiffany would end up being accepted and would attend Boise State University where she studied marketing and sales. After college, Tiffany received a sales/marketing position with a small company that required her travel all over the United States. She eventually made her way to Houston, Texas; where she fell in love with the city and knew this was where she belonged. As long as there was the opportunity to live in Houston and become a Texan, Tiffany would stay put.
Going forward to 2016, Tiffany knew she was ready to develop and market her own unique business idea. As one could guess, Tiffany was planning another event for her loved ones. She was fumbling online, looking for a keg delivery service for a party when her google searches brought her to Tap Truck USA. Instantly, her big light bulb went off and Tiffany knew her next unique business idea. As a single mom with two young girls, Tiffany was ready to hit the ground running as a full-time mother and a successful entrepreneur of Tap Truck Houston. Tiffany is now found cruising her 1955 Ford F100 named "Carmen". Carmen has a luscious deep brown color with gold finish that is equipped with a 289 Ford small block, automatic transmission, and original air conditioning. Tiffany whips this Tap Truck throughout Houston in comfort and style. She can be found serving beers at the Rodeo Houston to the thousands of guests, the Lone Star Rally in Galveston Minute Maid park with the World Series winning Houston Astros, the Toyota Center with the Houston Rockets, and NRG with the beloved Houston Texans. Tiffany also looks to get Tap Truck Houston into the Kemah Crawfish Festival, Renaissance Festival, and Houston Marathon. Be sure to stay up to date with her Tap Truck!
            Tiffany loves to provide and pour beers from her deep connections within the local home brewing scene, she knows many brewers that will craft her a special something for her events to cross promote. When not pouring home brews she likes to serve No Label Brewing, Saint Arnold Brewing Company, Karbach Brewing, 11 Below Brewing Company, Spindletap Brewery, Austin Beerworks, Fulbrook Ales Works, and a fan favorite - Southern Star Brewing. Tiffany of course enjoys that fermented apple juice and loves to support Houston Cider Company!
            With all the past events in the books, Tiffany is looking to expand her Houston beverage catering business. She has plans to restore (Ford Panel in mind) and convert a second Tap Truck. She wants to paint it Maroon (with cream highlights) to complement her current Ford F100 Tap Truck's deep brown color with gold highlights. 
            Tiffany has also been very excited at this point about Tap Truck Houston. Other than running public events for her clients, she has also found her Tap Truck extremely helpful for her own private events. Being the neighborhood block party hero, she is able to accommodate and use her Tap Truck for such occasions. It's not only Tiffany that loves her Tap Truck, her two daughters can always be found lending out an extra hand for events. Her oldest, Charly at 11 years old and Taylor at age 8, love to watch and help Tiffany with Tap Truck Houston. Currently, Charly is helping to restore an antique single stall horse trailer that will spin off of the Tap Truck concept. This will include 4 taps that guests can pull to flavor their fresh made snow cones! Our little Tap Truck entrepreneur! She researched and came up with the idea all on her own as a Tap Truck Tag-a-long (truly a Tap Truck family within the family). Charly is planning to run this as her own small business. This couldn't make Tiffany any prouder. 
Charly isn't the only daughter having fun with Tiffany's Tap Truck, her youngest daughter Taylor loves to find out what liquids she can "put on tap" for Tap Truck Houston. Taylor bragged to her 7 yr. old friends after a sleep over that "my mom can put anything in her truck". Taylor's doubting friends were quick to reply, "na-hu not everything, she can't put milk in the truck." Tiffany heard this conversation, and to quickly back Taylor from her doubting 8-year-old friends; Tiffany snuck out to garage, filled up some milk in a corny keg, turned on the co2, and went inside to fill up 4 cereal bowls. She sent the girls to the garage to get milk and while they pulled the tap handle for milk on their cereal, their eyes lit up with awe.
Tiffany's love for meeting new people and being the source to provide guests with memorable moments is making Tap Truck Houston one of her biggest achievements. Watching the happiness and excitement that Tap Truck Houston brings to all the festivals, birthdays, weddings, corporate parties, has created another joy in my life. Tiffany plans to continue Tap Truck Houston and get the most out of it. Tap Truck USA is so happy for Tiffany and we wish her the best in her venture!