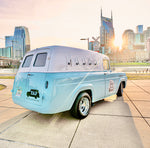 Get ready Music City! Nashville, Tennessee now has Tap Truck! Established in 2019, Tap Truck Nashville is owned and operated by Sean and Kay Bowser. The duo always knew they wanted to get into the craft beer industry, but just weren't too sure quite how.  Sean who currently works in the military and is close to retirement and Kay, who is in charge of raising their beautiful four children both felt that it was time for a change. They knew they needed a move, something had to happen, they tried new jobs, new cities, but nothing seemed to stick. "Go with what you know." That is their motto. They knew they loved Nashville. They know they love creating new memories together, love being around people, and love drinking craft beer. But most certainly, they knew that they wanted to find a fun and unique way to make a difference in people's lives. The only thing left was to figure out what path they wanted to take.
They initially started planning for a brick-and-mortar microbrewery, but with Sean's full-time job and four kids at home, they quickly realized that they neither had the time nor the capital to start a project that big. Despite their planning set-back, they still knew that they wanted to at least try something more feasible as a start-up. That's when they turned their attention to the mobile beverage industry. First, they had the thoughts of building out a horse trailer, but after some google research, they found Tap Truck! Instantly they knew that this is exactly what Nashville was missing. Thinking they would initially reach out just to gain some tips on how to start up their own mobile business, they then realized the huge opportunity of joining the Tap Truck family. They fired off an email, talked to Corbin and Taylor the next day, and the rest is history.
Sean and Kay can now be found cruising Nashville in "Dixie", a 1960 F-100 Ford Panel Truck. This Ford truck has a baby blue body with a polar white top. Originally from Sioux Falls, South Dakota, it is equipped with a 350ci small-block V8 engine. The gang already has been looking into a second Tap Truck, specifically a mid 50's pickup Chevy. Dixie looks to serve cold ones at some of the most iconic venues in Nashville; especially the Ryman, the Hermitage, Tootsie's, and the Country Music Hall of Fame. Dixie's blue color also fits in perfectly with Tennessee's NFL team the Titans; you will find Dixie next season pouring for weekly tailgates! When not rolling through Nashville, Sean and Kay are servicing the Franklin, Brentwood, Hendersonville, Mt. Juliet, and Murfreesboro areas. Being in the city of Music, you can also see schedules for Nashville concerts in case you are interested.
Sean and Kay are in love with the idea of bringing some of the best craft beer and other beverages to customers in order to provide an incredibly unique and fun experience for the host and their guests. There is nothing else like this in the Nashville area and they're excited to see all the places their trucks will be able to park. From weddings to birthdays to beer fests, Tap Truck Nashville is excited to tap into them all! Sean and Kay have exceptional palettes and are both pretty seasonal drinkers. They enjoy lighter beers during the Spring, IPAs in the summer, Browns and Ambers in the Fall, and Stouts during the Winter. In short, they both share a love for all styles of beer. If they were to settle on one, it'd probably have to be a good West Coast style IPA. 
Some of their favorites beers they enjoy pouring in Nashville come from Yazoo Brewing.  Yazoo Brewing is one of the larger breweries in Tennessee, but they also show love for the smaller microbreweries within their area. This includes Bearded Iris Brewing, East Nashville Beer Works, Southern Grist Brewing, and Black Abbey Brewing. If they were to pour cider from Dixie, it would be from Diskin Cider, one of the only cideries within Nashville. Of course, Sean and Kay love to support the local wineries as well. They can be found at Arrington Vineyards, an awesome place to spend the afternoon enjoying time with loved ones. Bring lunch, buy a bottle, and have a great time. They can also be found at Belle Meade Plantation which is an incredible venue very close to the downtown Nashville area.
Sean and Kay are becoming local legends within the Nashville area and are a great resource to learning about the local craft brewery and beverage market. Their wholesome attitude and great family values are contagious to be around. Once you meet the team you will want to learn more about them. Tap Truck is extremely lucky to have them both servicing the Nashville area and if you see them out, be sure to say hi and give them a wave. See more at https://www.taptrucknashville.com/