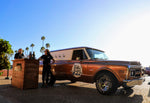 It is our pleasure to introduce Tap Truck Amarillo! Owned and operated by Mark and Lori McMorrough. The lovebirds met in high school and fate would have it that they would end up reuniting 15 years later after graduation! The two have had a long happy marriage since, raising two beautiful children. They are now the happy grandparents for two grandchildren! Mark and Lori have an eye for antiques and old vintage America. After a long day of antique hunting at flea markets, they enjoy sitting back with a cold beer to unwind. It occurred to them that they should look into possibly becoming a beer vendor at some of these flea markets. Once they began their investigation of starting their own mobile beverage company, they quickly ran into Tap Truck USA. After talking with Corbin, seeing all the fun Instagram posts, and the complete dynamics of the Tap Truck label, they decided to join in with the Tap Truck USA family. 
Mark and Lori are very excited to develop Tap Truck Amarillo into the premiere beverage catering service of the Texas Panhandle. This is the first unique bar catering experience to hit Amarillo, Texas and they will soon have their work calendar filled with weddings and corporate events! The gang can be found driving Amarillo in a deep copper colored 1969 GMC Panel Tap Truck. Their 1969 GMC will be pouring for the Sod Poodles and the Venom (indoor pro football team). When not cruising around Amarillo, they can be found pouring in the areas of Canyon, Canadian, Pampa, Sharrock, Hereford, and Darhart, Texas. Mark and Lori love to support local and have many fan favorite beers. Some of the breweries they pour on their truck are Pondaseta Brewing Co. and Long Wooden Spoon Brewing. Not only pouring beer from the Tap Truck, Mark and Lori love to support Honey Buzz Winery, Bar Z Winery, and Vingo Vineyards.
After the 2020 summer events and wedding season, they plan to invest into a second Tap Truck. They are interested in a step side Ford pick-up truck with an installed vintage box draft system, just like Tap Truck Houston's F100! Texas has a deep love for Ford pick-ups! Until then, the duo will be working hard and having fun. Tap Truck USA is very thankful and are proud to have Lori and Mark on the team. We see a bright future for the two and are excited to see how their Tap Truck story unfolds.