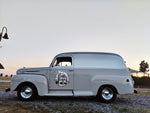 It's our pleasure to introduce the big and bad Tap Truck Buffalo Branch as this month's Branch of the Month. Owned and operated by Erik Anfin, he always conceptualized running a beer truck. Erik would brainstorm the idea after drinking beers on his porch. The idea of putting taps on a classic car, which seemed like a feasible financial and time-efficient business concept in comparison to opening a bar was a no brainer for him. After googling his plan and doing market research, he was disappointed that he wasn't the first to think of the idea! Tap Truck is already an established concept and growing label that is based out of San Diego, CA.
Erik went through the Tap Truck USA website and found the business opportunity page. After looking through, he loved the branding and began a conversation with Corbin, now he is a part of Tap Truck and is getting things busy in Buffalo, New York. Coinciding running Tap Truck Buffalo, Erik is a first responder and has ten years of law enforcement experience with a specialty in tactics and firearms instruction. Erik loves to teach and serve his community, which he can now do in addition with his Tap Truck. When not working Erik spends time with his amazing wife, who is the center of his inspiration along with two beautiful children; one being two years old and the other only nine months. His oldest always loves to sit shotgun in their 1950 Ford Panel Tap Truck and watch people give a thumbs up to him or honk as they pass by.
Erik now cruises the town of Buffalo pouring for some of his favorite breweries that include Big Ditch Brewing, 42 North Brewing, Amber Lantern Brewing, and Buffalo Brewing Company. Erik also likes to represent local cider companies like Black Bird Cider Works and Steampunk Cider along with local wineries like Ten Thousand Vines and Colaneri Estate Winery. Erik knows the local favorites for beer, wine, and cider which he takes to his events. Erik is looking forward to working big events for Buffalo Bill tailgates and Saber games. He also has scheduled events at some of the best venues around Buffalo, for example he can be found pouring at the Buffalo Naval Park and Buffalo Marriott Harbor Center this year. 
From these events, Erik is most excited because he gets to run a business that brings people and local businesses together in a new and exciting way. After completing events this summer, he plans to expand his fleet with 1964 GMC. Until then, Erik will keep plugging away running his Tap Truck branch, working on his hobbies of photography, and spending time with his family. Be sure to keep an eye on Erik and how his story with Tap Truck Buffalo continues!