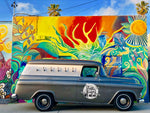 Hard Kombucha found on beer trucks!
These days in the sunny city of San Diego we have found ourselves amidst the great kombucha boom. We felt it was only time to name our top 5 Booch factories cranking out quality for all to enjoy. Kombucha is such a delicious drink, as I have to admit I gave it a try before fully understanding what I was putting down.
What is Hard Kombucha? 
Kombucha is a fermented tea drink made by adding yeast and a culture of bacteria to a mixture of black or green tea, then sugar, and sometimes additional flavorings or fruit juice to create a pop! It can be very smooth drinking and have a nice feeling on the tummy as it is rich with probiotics. 
Here is a run-down on some local Hard Kombucha places found in San Diego and beyond: 
Babe
A front runner in San Diego. Babe Gets 5 stars in our book! Distributed across Southern California this brand has a variety of flavor profiles to dive into. Maui Wowie is a mouthful of coconut, banana and strawberry. Skip dessert and order another! 
Juneshine
Wow what a brand. Born here in San Diego. Our top pick and most people's flavor to savor is Acai Berry. It tastes of a smooth berry delight at 6% ABV. Juneshine distributes across the US and has even recently celebrated a Launch on the east coast in New York and Boston. This Brand has paved the way for Hard Kombucha in cans and on draft. We are honored to serve them on tap in our mobile bars. 
Boochcraft
Founded in the South Bay of San Diego area in Chula Vista, Booch craft serves a fine product. A wild and fun flavor experience is Watermelon mint and Chili. It is dialed in at 7% ABV. They are located at 684 Anita St F, Chula Vista, CA 91911
TapShack
Ocean Beach is a world of itself, such an easy-going chill vibe. Literally this Shack is lined with Taps for fresh mixes, juices, even coffee served up. Tap Shack prides itself on quality ingredients where you can enjoy one of a kind style for hard kombucha. Fill up a growler! 
 Fruit Craft
Much like TapShack, Fruit Craft is part: Hard Kombuchery, Cidery, Meadery, Winery and Distillery. What can't they do?!  Part of the draw to an awesome venue like this. they have hard and soft Kombucha to try.
--- 
Note: We have constructed this post using outside sources, including news bulletins and first-hand accounts from outside sources. The details concerning this blog have not been independently verified and so, if you have identified false information, please inform us immediately. We will adjust the post to reflect accurate content.