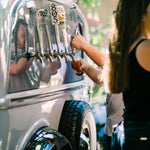 We here at Tap Truck love a good brewery and Seattle is a great city to fulfill that thirst! We love finding new and exciting crafts to enjoy and share with our readers. These are some of the top breweries we found in the Seattle area as well as Washington. We hope to see you there!
Fremont Brewing – Seattle, WA
Fremont Brewing is a family-owned brewery that has been around since 2009. They are the home of the "Universal Pale Ale" which leaves a distinctive northwest pine and orange taste in your mouth that you will surely enjoy. Their selection of over 30 beers and ciders will have you coming back for more.
Cloudburst Brewing – Seattle, WA
Cloudburst Brewing is a local Seattle brewing that has plenty of events around the Northwest and across the country! They have a great list of current beers on tap as well as past and future brews. You can't go wrong with their "Two Scoops" which is a brown ale with a hint of cinnamon and Raisins that will leave your mouth watering.
Optimism Brewing – Seattle, WA
This once 100-year-old warehouse has been transformed into a state-of-the-art brewery. Optimism Brewing opened its doors December 5, 2015 with their sole focus of serving artisan craft beers. They have Disney trivia as well as food trucks at their doors for a proper beer garden experience. One of their staple beers on tap is the "Afraid of the Dark" which is a Bavarian Bright Lager that has a nice grainy and fruity flavor to it.
Georgetown Brewing Company – Seattle, WA
After 14 years of selling beer, Georgetown started canning select fulltime beers in May of 2017. Their most known craft beer on tap is the "Manny's Pale Ale". The northwest hops and their unique style of yeast give this pale ale an undeniable crisp and citrus taste that will leave any beer lover satisfied.
Old Stove Brewing Co. – Seattle, WA
Old Stove Brewing became a part of Pike Place Market in 2017. This brewpub as many options in brews for you to enjoy! One of their unique craft beers is their "Blackberry Sour". This tart and sweet kettle sour is fruited with over 170 pounds of blackberry puree! Surely a delight.
Reuben's Brews – Seattle, WA
This family owned brewery opened in 2012 and was named after their first child. They have also had a taproom for you to enjoy since 2015. One of their delicious beers on tap is the "Robust Porter". This dark beauty is brewed with eight malts with a complex array of flavors of caramel with a smell of chocolate and coffee!
Bellevue Brewing Company – Bellevue, WA
This Bellevue based brewery has a great selection of raft beers for you to enjoy. They have a farm to pint mindset which utilizes the freshest ingredients the state of Washington has to offer. One of their well-known beers on tap you should try is the "Bohemian Pilsner" which has a sweet malt taste with a subtle hint of cashew and water biscuit.
Chuckanut Brewing – Burlington, WA
This brewing has a 20bbl brew system with the capacity for up to 15,000 bbls of beer. They also have a Tap Room for you to enjoy. A beer that we like to enjoy is the "Irish Dry Stout" which is a full flavored, black and roasty stout.
Black Raven Brewing Co. – Remond, WA
The Raven's Nest classifies itself as their brewery's living room. Their taproom is great for friends and family to enjoy some works of art. One of their great beers is the "Nothing But Hazy IPA". The smooth taste of oats and the citrus taste of mango, pineapple, nectarine and papaya will quench any beer lovers' thirst.
Elysian Brewing – Various Locations Around WA
This well-known award-winning Brewpub of the year has been around 1996.  Their original location in Seattle, Washington is the epicenter of local craft beers. Their most renown brew is the "Space Dust IPA" which has a bitter taste with dry additions of Citra and Amarillo!