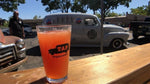 From the dawn of Tap Truck launching in San Diego, we have always enjoyed the search for our next favorite craft brewery. After all the time we have spent on our art of restoring a classic truck, we want to pair it with quality dedicated to the craft!
Our hats are off to the great founders of the craft beer renaissance. Karl Strauss, Ballast Point , Green Flash, AleSmith, Stone Brewing Company, Firestone Walker, 805, Golden Road Brewing, Rogue Ales, Bear Republic brewery, Pizza Port Brewing, Lost Coast Brewery.
It is very admirable seeing how the industry continues to push each other from the big to the small. Time and again we see limited releases and incredible batches being made.