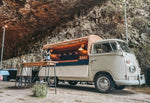 Creating a mobile bar service is one of the best ways to start your entrepreneurship journey. Not only do you get to help people with the right drinks for their events, but you can also create your own mobile bar USA empire. The best thing is that you can become a mobile bar licensee for Tap Truck and represent the company all over the US as you see fit. This is a great way to start a business, by working with a company that offers great licensing opportunities throughout the US and even some locations internationally. 
Proven track record
What makes Tap Truck unique is the fact that this is a company with a proven track record. It's known to bring in a lot of value and quality, and you will certainly appreciate the great return on investment. When you work with a vetted, established mobile bar business like Tap Truck USA, it's easier to inspire trust in front of your customers. That leads to more sales and faster growth than ever before, which is exactly what you need. 
Assistance and support
Another reason why you want to pick the Tap Truck mobile bar license is because you are getting all the help and support you need. The great part is that you not only have guidelines already in place, but Tap Truck can also help with legalities too. This way you can focus on your business and nothing else, which is extremely important. Having assistance from a company that already has some of the best mobile bar USA experience is important, since it makes it easy to deal with any possible issues that might arise. 
Easier growth
You will notice that Tap Truck also has a lot of exposure all over the country. This is one of the most popular US based mobile bar businesses, and you can represent it yourself. That means it's easier than ever to grow and expand, and in the end that leads to a major return on investment. When you start a new mobile bar business, it can be very difficult to grow it without investing a lot of time and money. However, a company like Tap Truck USA brings you the name and expertise you want, and 
Access to exclusive drinks
With Tap Truck, you also get to access some important suppliers. What that means is that you can offer drinks that no other mobile bar has. It's a very good way to stand out, while making sure that customers are always happy and enjoy the experience. Plus, having exclusive drinks is very important, it helps convey a much better result, and the quality can be incredible thanks to that.  
Conclusion
As you can see, picking the Tap Truck mobile bar license is a great way to start your own mobile bar business and reach new heights. You will find it simpler to generate leads and customers, while also bringing in more attention towards your customer base. All you have to do is to avail the opportunity, give Tap Truck a try and you will be impressed with the amount of assistance and support that you receive. It's a great idea to join an established mobile bar company, because it's easier for you to make your name known in your region. That leads to more sales and customers in no time!