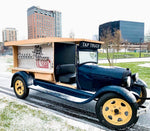 Winter time is special for most of us, since it brings people together, while also encouraging festivities and other great experiences. With that in mind, this is also a time when many events take place, be it to appreciate the year that passed, or to look forward towards a bigger and better year to come. That's why it makes a lot of sense to give the Tap Truck mobile bar a try. Tap Truck is a national brand with more than 75 licensees all over the country. 
Why should you hire a mobile bar for your winter time event?
One of the major advantages you have when you hire a mobile bar is that you can access a vast range of drinks. Mobile bar trucks can be fully equipped with all the necessary drinks needed for your event. Everything is ready to go, in a single place, which makes the tap truck USA one of the best possible options to consider for any event drinks.
At the same time, you don't want your winter events to rely on external sources from other regions. Due to weather changes, your drinks might not even arrive on time. That's why you want to hire the best mobile bar, and results will certainly be second to none. 
Can a mobile bar fulfill your drink requirements for any event? Absolutely, the main focus for Tap Truck is to bring a fully equipped mobile alcohol truck that you can rely on. In addition, this is one of the top mobile bars for hire near me that delivers great value, efficiency and professionalism in a single package. 
What kind of alcoholic drinks can be offered by Tap Truck during the winter? 
Enjoying great alcoholic drinks during the winter is a great idea, and if you want to create a great event, these drinks are a great addition to the menu. With that in mind, there are a variety of amazing alcoholic drinks you can try out during the winter. Tap Truck provides you with both non-alcoholic and alcoholic winter drinks, depending on your needs.
Non-alcoholic drinks for winter
When it comes to non-alcoholic options, we include French hot chocolate, a very popular and tasty winter drink everyone will enjoy. Another favorite non-alcoholic drink would be the hot caramel apple cider, an incredible drink which is super tasty, very easy to drink and great for any type of event. If your event has a more friendly vibe, you can try out the pumpkin spice milk or the eggnog chai latte, all of which are incredible drinks of a very good quality. 
Alcoholic drinks for winter
Tap Truck can also bring you some incredible alcoholic drinks that are very good to try out during the winter. Peppermint Bark Mimosas are an extraordinary example, because they have peppermint schnapps, the champagne and a candy cane to really bring that winter vibe. The Sugar Cookie Martinis are another great option, and in this case, you can prepare a beautiful martini that has a wonderful, white look and you can add in some powdered sugar at the top of the glass, so people can enjoy the drink and also try out the sugar as well.
These are only a few of the many winter-focused alcoholic drinks. Tap Truck can also provide the Apple Pie Moonshine, White Russians, Mistletoe Margaritas that are an incredible winter drink and so on. 
Conclusion
As you can see, there's no shortage of drinks you can get from a mobile bar for your winter event. Tap Truck is here to offer you direct access to some of the best and highest quality drinks that will help take your winter time event to the next level. You can fully customize the drink list and our prosecco trucks will be there to help every step of the way.