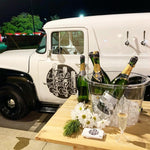 Top Vineyards in Washington
Washington State is home to many great wineries and vineyards that are a must to check out! We at Tap Truck always appreciate the artistry and craftsmanship of a great tasting spirit. Whether it be a sweet savory wine or one that has that taste of bitter we all enjoy. Here are some of the vineyards that peaked our interest.
Maryhill Winery - Goldendale, WA
This family owned and operated winery has been around since 1999 and produces more the 50 different kind of spirits. They also have a 3,000 square foot tasting room which brings travelers from around the world with breathtaking views of the Columbia River. They like to incorporate many fruits like pomegranate, apple, peach and rhubarb.
Walla Walla Vintners - Walla Walla, WA
Tucked away in the foothills of the Blue Mountains, Walla Walla Vintners has been crafting delicious wines since 1995. This 1467 ft. vineyard is family owned by Washington natives that have a true passion for wine. They have a copious amount of varieties of spirits for you to choose from with tastes of coffee, caramel, blueberries and more!
Chateau Ste. Michelle Vineyards - Woodinville, WA
Built on a 1912 estate owned by a lumber baron this winery has roots as deep as the repeal of the prohibition. Chateau Ste. Michelle Vineyard has a bunch of events and summer concerts to enjoy will sipping on your favorite bottle of wine! Some of their most well-known spirits have the taste of raspberry jam, clove spices, even mandarin orange.
Arbor Crest Wine Cellars - Spokane, WA
This award-winning winery has been in business since 1982! Sitting 450ft above the Spokane River Valley this beautiful estate has views that would leave you speechless. Their spirits incorporate many smells and tastes like peach, apricot, cherry, and chocolate.
Silvara Cellars - Leavenworth, WA
Established in 1998, this winery sits on Candy Mountain which is well renowned for its luscious fruit! Perched at over 1,250ft above sea level it is the highest growing vineyard in the Walla Walla Valley. Some of the flavors they have to offer are white pepper, mountain blackberries, and caramel.
Harbinger Winery - Port Angeles, WA
This artisan winery was founded in 1968 by Alec Bayless. Harbinger Winery sits alongside the Columbia River and hosts many events for you and your family and friends to enjoy! Green apple, vanilla, melon and wildflower are some of the delicious flavors and aromas that await.
Benson Vineyards Estate Winery - Manson, WA
Looking over Lake Chelan, this Mediterranean-inspired estate winery is 100% estate. This means that they only produce and distribute everything in house! Including all of their fruits. This low-carbon footprint vineyard has many spirits to choose from with tastes including cherry, raspberry, oak, and almond.
14 Hands Winery - Prosser, WA
The wild horse-inspired winery has a great story behind it which pays homage to the wild horse that roam Washington State. This newer vineyard (established in 2005) has made a name for itself by letting the fruit control the spirit with as little manipulations as possible. The aroma of tobacco, black cherries, guava, gooseberries and grapefruits can be found in some of their delightful spirits.
Shiftwater Cellars - Cle Elum, WA
Shiftwater Cellars has been around since 1977 with over 20,000 acres of farmland. One of their classic drinks to order is the "Rope Rider" which is named after the coal miners who used to ride the ropes down in the No 9 coal mine right near the vineyard! They have some great spirts with many different tastes to choose from including plum, orange, mint, and pineapple.
Westport Winery Garden Resort - Aberdeen, WA
This fine vineyard is a fourth-generation family owned farm that dates back to the 1920s! They have up to 1,500 acres of land for grapes and another 1,500 acres for tree fruit and blueberries. Westport has a great food and also rooms for you and your family to stay by the sea. Their wine listing all has a matching entree and song to go with each wine to give you the full experience!