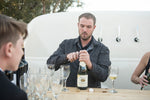 It is clear the great southern state is pretty passionate about both growing grapes and turning them into spirit. There is a membership that the state houses to continue to work together, the Alabama Winemakers and Grape Growers Association. Across the map not only are there great wines to explore but gorgeous venues as well that. Mostly in Alabama they grow muscadine grapes. 
Morgan Creek Vineyards - Harpersville, AL
At Morgan Creek they also feature a gorgeous wedding venue for brides and grooms to check out. Visit their site and see how nice the venue looks! The space can handle upwards of 500 guests which is quite the party!  They have blends of wines with a large variety to pick from. When it comes to fruit wines they create - sweet apple, dry apple, sweet blueberry, semi-sweet blueberry, peach. 
Perdido Vineyards - Perdido, AL
First planted in 1972, the Muscadine grapes at Perdido Vineyards began their refinement. The variety is grown widely throughout the South and have been a favorite of Southerners for generations. The delicious aroma and taste create a historical selection of products including blueberry wine, sweet apple, even grape juice, a few jubilee fruit wines!
Whippoorwill Vineyards - Notasulga, AL
Just 20 minutes out of Auburn you can find the tasting room open Thursday through Saturday. Confederate Rose is the perfect blend of the red muscadine, and the bronze scuppernong, creating a uniquely smooth and light fruity character. Muscadines were planted on the estate in the winter of 2005. 
Maraella Vineyards and Winery - Hokes Bluff, AL
Scott Lee is on the board of the AWGGA with located in the picturesque foothills of the Appalachia Mountains. Established in 2005 by the Lee Family. Maraella Estate Farm Vineyard & Winery is the realization of my dream of a family wine business. We promise the embracement of the principle to make 2013 Cabernet Sauvignon is made with Alabama's only estate grown Cabernet Sauvignon grape. This unique handcrafted wine is ruby red in color with aroma that is sweet with dark cherries
Hodges Vineyards & Winery - Camp Hill, AL
Located in East Central Alabama, Hodges Vineyard and Winery is just minutes a click outside of Auburn and near Lake Martin. They host a selection of grape and wine varieties to enjoy. They have a well put together venue for weddings or any other type of party you want to gather. 
Jules J Berta Vineyards - Albertville, AL
The first vines were planted in 1987 then Jules and his wife opened the winery in 2008.  Jules J. Berta Vineyards is an operating vineyard and winery with lots of natural beauty for a picturesque wedding atop Sand Mountain, a plateau nearing the end of the Appalachian Mountains.  With four breath taking seasons to choose from, any time of year offers for a romantic ceremony.
Ozan Winery & YH Distillery - Calera, AL
Ozan also distills vodka as well as bourbon. On the weekends the tours open up for all guests to check out the tour where you can eat and drink your way around the estate!  in 2015 they received winery of the year with best dry red wine named Calera. 
Wills Creek Winery - Attalla, AL
Founders Jahn and Janie Coppey established Wills Creek Vineyards in 1996 and opened the Winery in 2001. Jahn grew up in the Rhône valley of Switzerland in a family of vineyard owners. Each year Wills creek produces 2000 cases. In addition, the venue also has a gorgeous spread for weddings. Check out some of their featured photos on their site! They are part of the Alabama wine trail if you wanted to explore it.  
Corbin Farms Winery - Calera, AL
Corbin Farms is quite the estate to check out and spend half or even the full day.  They have a restaurant with a top tier bites to indulge.  They house private events from 10 to 300 guests. Gary and Donna Corbin are our owners, with Gary once serving as an army ranger. At Corbin Farms our focus is on producing vinifera wines including Cabernet Sauvignon, Merlot, Pinot Noir and others.
White Oak Vineyards - Anniston, AL
Randal Wilson is on the board of the AWGGA as well as being the co-owner and winemaker for White Oak Vineyards.  Harvest time begins June through July and sometimes pushing back toward a week or two in August. This includes blueberries, peaches and black berries that are going to pair well with the grapes. Southern Gold is a Semi-sweet bronze fruit blended and they also feature Scarlet which is a semi-sweet ruby red wine made.