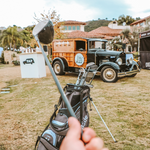 Tap Truck On The Links
There are many events that are well suited to a Tap Truck Mobile Bar but in my opinion, one of the best events is on a golf course! What is better than the lush rolling greens and fresh air of even the most modest of golf courses; not to mention the private courses that not only give you fresh air but take your breath away. Tap Truck is the perfect fit to be on any hole or area of a golf property. Tap Truck is mobile, Tap Truck is unique, and Tap Truck serves beer!
The golf course is not only beautiful; it lends itself to an array of beneficial qualities. It is a place of beauty in which to perfect your golf game, but it is also a perfect setting for conducting business and raising money for worthy causes. A charity golf tournament is the perfect draw to bring causes and supporters together for a day of fun and funding! A golf tournament event can be designed to challenge, entertain, support and reward both participants and sponsors.
Many charitable golf tournaments will have sponsorship on various holes throughout the course. This design lends itself perfectly to the unique qualities of a mobile bar service. The no brainer is to team up with a beer or other tapped beverage sponsor but there are other companies out there looking for a unique and memorable way to add their sponsorships.
There are many ways to get yourself involved in the charity golf circuit in your area. For any Tap Truck USA licensee, a search for charity tournaments in your area is a good way to start. Calling the various golf courses to ask for a reference to someone planning a tournament on their property is another way. Think about what services in your area most likely benefit from fundraising. It could be anything from police departments to military and even a local athletes favorite charitable cause. 
Another great benefit of being involved in charitable golf tournaments is exposure to participants, hosts, organizations, and even the venue itself. Once your participations help to create a unique a unique and memorable experience, the word of mouth is invaluable. There is an array of applications people will think to use you for! Anything from a corporate lunch to a wedding to a graduation party. There are many ways to use a mobile bar and Tap Truck USA has the upper hand on style and value.
One other note of encouragement – if you find it difficult to get a sponsored deal right away, offer your services at a reduced or no charge rate. The exposure will likely lead to future business. Sometimes a leap of faith can be the launching point to your future success. At the very least, you will be in a beautiful setting and helping to support a worthwhile cause in your community. The very best way to market your product will be in the connections you make in person! Nothing beats a beautiful mobile bar to make a long-lasting impression!
January 2022 – Jody Drew