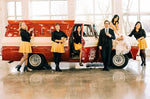 A mobile bar can be the perfect solution for bringing in great, exquisite drinks to any type of event. Our company delivers the best mobile bar USA experience to customers all over the country, and we can easily cover a variety of different event types. Here you have a list with some of our favorite type of events, among many others!
Weddings
We believe that mobile bars are ideal for a wedding because you have a team of experts delivering extraordinary drinks to guests. It's also a nice way to eliminate the worry about buying drinks on your own or having to prepare them in a very specific manner. It's a very good approach, and it does bring in front some amazing results, while eliminating a variety of concerns and challenges along the way.
Tailgates
Our mobile bar franchise also supports tailgates too. We believe it's a great idea to bring in a mobile alcohol truck to this type of events, because it brings in a vast range of drinks for all your guests. It allows you to throw a great party and have fun, while also having all the booze supplied by us. 
Festivals
Mobile bars are perfect for festivals. They can bring in a vast range of drinks for all people attending musical events. They can even have themed drinks, which will only make the event special in the first place. Our mobile bar California and all the other ones in the country are ideal for festivals, and you will find them versatile and extremely dependable.
Corporate events
Corporate events allow people to relax without having to go to a bar and celebrate there. It's a simpler way for the organizers to plan this event properly, since all drinks are on-site. Plus, guests have a much broader range of alcoholic drinks to choose from.  
Birthdays
Everyone wants to enjoy some drinks when celebrating a birthday party. Bringing a mobile bar to your birthday allows everyone to have fun and enjoy the alcoholic drinks they want. Plus, you can have only certain drinks, or you can opt for a large variety of options. The complete customization and affordability are some of the many things which make mobile bar trucks a stellar option for any birthday.
Fundraisers
If you're holding a fundraising event, it's a very good idea to bring in a mobile bar too. The bar can act as a way to raise funds for the events. Plus, it encourages everyone to be more generous, while also enjoying their time and relaxing with their favorite drinks. It's also possible to have some mixed/special drinks that will take the event to new heights!
Conclusion
There's no denying that a mobile bar can be ideal for a variety of events, be it private or corporate. It all comes down to finding the right approach and fully customizing the event based on your needs. We recommend you to take all these ideas into consideration and hire a mobile bar for your upcoming event. It can make your event more interesting, not to mention you won't have to worry about getting and serving drinks. It's the best of both worlds, while delivering a more exquisite and professional appeal to your event!