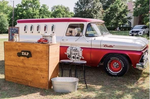 From elegant weddings to lively corporate gatherings and everything else in between, the world of mobile bars is continuously evolving into a dynamic industry, offering a unique and captivating way to elevate any celebration! With the growing demand for exceptional service and innovative experiences, it's time to recognize one of our many branches that consistently delivers excellence, leaving a long-lasting impression on our clients and guests! For the month of June, we are proud to showcase this month's branch: Tap Truck North Texas!
In the home of barbecue, boots, and beer Brian Piper and Jayne Detzel Murdock know exactly how to bring meaning to the phrase "Everything's Bigger in Texas"! Brian and Jayne dominate the North Texas area with their beloved Tap Truck 'Belle', a 1963 Chevrolet C-10 Panel Truck with a 327 engine. They are proudly based out of the home of the Bulldogs: Royse City, and serve all over the major cities in North Texas including Dallas, Frisco, Plano, Allen, Rockwall, McKinney, Garland, Rowlett, Fate, and Anna! 
Jayne and Brian caught the Tap Truck bug early in 2021 by accident as they stumbled upon a Tap Truck USA Facebook advertisement. After checking the ad out, the pair knew this was the place for them to put their entrepreneurial spirit into action as in their own words, "it aligned with two of our favorite things: beer & vintage vehicles"! Jayne and Brian were in the market for a side hustle that was both fun and financially rewarding and were quickly on the hunt for the perfect mobile bar vehicle to hit the ground running! With the Lone Star state on their side, all they had to do was look right into their own backyard to find 'Belle'! They installed their own tap system, giving them a crash course introduction into the Tap Truck USA world, and stated that "it was a valuable lesson which taught us a ton!" 
With all hands on deck from friends and local businesses, 'Belle' was transformed into the star of the show that she is today. Tap Truck North Texas quickly boomed and they are now proud to share their love and passion for all things beer and truck related across Texas but joke "that is of course until it is time to flush the lines"!
This inseparable team never gets tired of random strangers asking "Y'all own a Beer Truck?" and truly enjoy the many people they meet while attending events. The 'art of the perfect pour' is something Tap Truck North Texas takes great pride in as they serve many big-name beer brands such as Miller Lite, Coors Banquet, and Michelob Ultra! Perfectly paired with the beers they serve, you can also find many non-alcoholic beverages and mock-tails that are sure to spark your taste buds such as 'Throttle': a fruity blend of punch, pineapple, and ginger ale, 'Grand Prix': a true summer blend of orange juice, lemonade, and grenadine, along with cold brew coffees, lemon peach teas, and sparkling lemonades!
Tap Truck North Texas is always ready to pour whatever beverages their customers desire and is absolutely killing the game at meeting all of the requests sent their way! They love supporting their community, family, and friends throughout their many special events and occasions. Jayne and Brian even had the pleasure of serving Jaeger Bombs for one of their events!
Continuously pushing the boundaries of Tap Truck, they are excited to expand their business and have been talking with a Fortune 100 Company looking to host a series of Dallas beer events later this summer! With their top-notch service and southern hospitality, Tap Truck North Texas is on a roll! They love the repeat business that they get from their customers and have found that their best, most profitable events to date have largely come from the loyal base of corporate customers that they have! Brian and Jayne joke that sometimes "the best events are in someone's parking lot". Be sure to hit up this dynamic duo to get the 411 about the road to corporate event success! 
One of the many things that excite Tap Truck North Texas is "offering a concept that most people haven't seen before". As a booming sector within the hospitality industry, the mobile bar business offers exciting opportunities for entrepreneurs and aspiring bartenders. It genuinely combines the art of mixology with the joy of event planning, allowing professionals to showcase their creativity, business acumen, and passion for delivering exceptional customer experiences. The mobile bar industry is continuously forging ahead as a preferred choice for those seeking a unique and hassle-free event experience. In today's world where personalization and convenience are highly-valued, Tap Truck North Texas carries on this notion with its focus on creating custom experiences that leave lasting impressions on all guests.
When they're not busy pouring drinks and delighting guests, you can likely find Brian and Jayne "enjoying a few cold ones and watching 'Smokey and The Bandit' for the 234th time" on their days off! That's the true Texan spirit right there, I mean who doesn't love watching the Bandit and the Snowman outrun the pesky sheriff? This unstoppable duo cannot wait to be "Eastbound and Down" for their next event!
Brian and Jayne share that they are "thrilled to be part of the Tap Truck family, and we are excited for the next chapter as we watch our business continue to grow. Our 2023 business goal is to finally get to grab a beer with Corbin"!  Big plans are in the works for 2024 as well, as the pair just announced their plans for "Tap Truck Garage" which will serve as a small event venue and occasional neighborhood bar. The centerpiece of the bar will be a 1950 International Metro Van which will serve as their non-mobile, mobile bar sporting the Tap Truck brand.
With love from all of us here at Tap Truck USA, we are honored to have Tap Truck North Texas as a branch in our ever-growing family tree! We know that their passion and drive for success is going to take them far. We cannot wait to see what Brian and Jayne have in store. Their grit, determination, and beer-loving mindset is the perfect recipe for success! 
Join us in raising a glass to Tap Truck North Texas and their unwavering commitment to delivering exceptional mobile bar experiences! Tap In to Brian and Jayne's Tap Truck journey by following them on Instagram & Facebook! And if you're in the area, don't miss the chance to experience a taste of Tap Truck North Texas! 
As always, if you are interested in becoming your own mobile bar boss, don't hesitate, connect with us today!