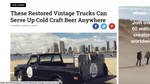 Thanks Courtney and Wide Open Country for the write up! 
These Restored Vintage Trucks Can Serve Up Cold Craft Beer Anywhere
BY COURTNEY GIARDINA

Facebook/The Tap Truck
Two childhood friends are bringing craft beer everywhere inside a fleet of stunning vintage trucks with their new venture, Tap Truck USA.

Corbin O'Reilly and Taylor Steers were tossing around ideas for a beer truck one day. The two decided to put their passions for beer and trucks together and get to work.

"I have always been very passionate about vintage cars and trucks," Corbin tells VinePair. "Taylor has always been a major beer guy amongst the craft scene. When you put our two minds together what could be better than Tap Truck?"

Facebook/The Tap Truck
The two will admit that while the journey has been fun, it hasn't been easy. They are restoring each of the trucks themselves and installing kegerator systems. Preparing each truck to hold everything needed for the beer takes major renovations.

Tap Truck USA now has a fleet of 7 vintage trucks and are in the process of restoring more. One of them includes a firetruck. The guys are ready to serve at events such as weddings, golf tournament and festivals. They were even responsible for serving up craft beer at the Poinsettia Bowl.

https://www.instagram.com/p/BUxdv_wDv8W/

Are you jealous that you don't live in San Diego? Well, for $20-$25k you can be a part of the Tap Truck USA venture by bringing the craft beer truck business to your city. Corbin and Taylor will build a custom truck and license the brand name while also helping guide you in launching a successful tap truck of your own.

https://www.instagram.com/p/BWAncUmDTLh/

To find out more about starting your own tap truck business or event package offerings, head over to the Tap Truck USA website.