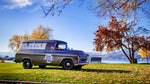 We believe that a great mobile bar needs to have personality and to really stand out of the crowd. Our mobile bar California is all about bringing that and truly pushing the experience to the next level. Instead of going with modern mobile bars, we decided to bring in the old school appeal and use only vintage trucks. Vintage trucks are extraordinary pieces of engineering, they are built to last and provide a vast range of advantages when compared to any other tap truck out there.
Amazing aesthetic
The core advantage of Vintage Trucks is that they look amazing. They really push the experience to the next level when it comes to their overall looks. Modern trucks look great, but these vintage trucks really stand out on the street, and they are ideal for the mobile bar business. Plus, they are versatile and you can easily adapt them to any type of mobile bar USA solution you need. You can also switch their paint to something more suitable to your brand. It's the ideal tap truck USA, and all our customers enjoy it. That's what makes it ideal for us, because it allows us to express our brand's unique selling point, while also having a visually appealing mobile bar for our business.
One of a kind custom trucks
Vintage Trucks can be fully customized to suit your needs. In fact, there are many shops all over California that will fully customize trucks for any mobile bar business. With their help, you can have a vintage mobile bar that looks true to any period, be it the 30s, 40s and so on. And yes, you are free to add any details or custom features to them. Our trucks are very detailed, they bring you back in time, while also being fully customized to provide the ultimate service and outstanding quality. It just doesn't get any better than this!
Easy to service and maintain
One of the things that matter for us quite a bit is the fact that each Vintage Truck we use for our mobile bar business is very easy to maintain. These trucks are fast, dependable, they are fully customized and you can service and maintain them with ease. Since we're running a mobile bar franchise, it's important to have vehicles that are very dependable. These trucks are amazing, they get the job done, and this only helps our customers enjoy a better and more comprehensive experience every time.
Conclusion
These Vintage Trucks are versatile and they bring in an amazing way for us to deliver you the best service and solutions. Every vintage mobile bar we own is fully adapted to our needs, and it comes with its own color scheme and personality. It's a great way for us to bring in a different, unique mobile alcohol truck for clients all over the country. We encourage you to give our mobile bars a try, and you'll be able to check out these great Vintage Trucks and see their unique feature set!