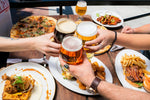 5 Unique Drinks From Around the World
According to a study conducted by Nielsen in March 2020, the national sales of alcohol increased by 54% compared to the year before. Online sales also rose by a staggering 262% from 2019, especially as the coronavirus stay-at-home orders began in some states.

Of course, human beings have had a long history with alcoholic beverages. In fact, residues of an alcoholic beverage were discovered in pottery from Northern China, dated around 3,000 years ago. Through the Internet and globalization, it's become much easier today to learn about and sample alcoholic beverages from other countries. With that in mind, here are five unique drinks to try from around the world:

1) Peru: Pisco Sour

The national drink of Peru is a cocktail called the Pisco sour. Its base is a clear, grape South American brandy called Pisco, which is combined with bitters, lime, simple syrup, egg whites, and ice. Although it sounds odd to include egg whites in your drink, these help create a silky smooth texture so the drink goes down easily. With its sweet and tart flavors, a Pisco sour is irresistible and refreshing. Just one glass will help you understand why Peru celebrates a national holiday every February in its honor.

2) Czech Republic: Becherovka

Becherovka is the Czech Republic's national spirit, while beer occupies the title of the country's national drink. Created in 1805, Becherovka is a liqueur that contains over 20 herbs and spices; it is frequently used to treat stomach ailments. This all-natural beverage is described as "the feeling of Christmas" in a drink, as its dominant flavors are anise, cinnamon, clove, and orange. Whether it's an apéritif or a digestif, you can enjoy the well-balanced, unforgettable taste of Becherovka best when it's served chilled.

3) Philippines: Lambanog

Dubbed as the 'Philippine Vodka', lambanog is a coconut-based liquor that's known for its potency and high alcohol content. At 40% ABV, lambanog has a crisp, clean, sweet, and fruity taste that works well as a base liquor for other flavored spirits and cocktails.

One of the most popular traditional drinks in the country, lambanog originates from the province of Quezon, where coconut plantations thrive. It's made by fermenting and distilling the sap of an unopened coconut flower, sweetened with raisins. Most lambanog is sold in gallon jugs, as drinking lambanog is popular for celebrating special occasions and social gatherings in rural areas.
4) US: Craft Beer

The craft beer trend is prevalent all throughout the world, but it's probably most vibrant as an industry in the US. San Francisco has been dubbed as the birthplace of the craft beer movement, with over 30 breweries in the city belonging to the San Francisco Brewers Guild. A craft beer is essentially beer that has been prepared by a small, independent brewer in a non-mechanized way.

Among the top choices for craft beer comes from the San Francisco Brewing Co., an outdoor beer garden that offers a number of signature brews. Their Alcatraz Amber — named after the historic prison — has a rich, malty body and light, caramel taste.

5) Thailand: Mekhong

Mekhong is a spiced rum that was produced in 1941. In fact, it originated from a distillery run by the Thai government and is the first domestically-produced spirit of the country. Named after the Mekong River that flows from China to Vietnam, Mekhong is a drink that can be enjoyed on its own, served with ice, or incorporated into cocktails and long drinks.

Mekhong is distilled from a co-ferment of 5% rice and 95% molasses, then blended with native herbs and spices. It's sweetened with honey and enriched with caramel to create its distinctive, golden color and sweet-spicy aroma.
Article by Tina McKinney for taptruckusa.com