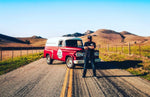 A mobile bar franchise vs simple brand licensing
Time and again we are found by people who want to talk to us about franchising. So, we wanted to write up a little business article about the difference in franchising vs simple licensing. 
Tap Truck is actually not a franchise as we enjoy developing licensing of our brand for the licensee ("family member" as well like to call them). This is usually within a specific territory as it is exclusively their spot on the map. The key to licensing is it comes with a lot of freedom. Family members can operate their business as they see fit to the local people, they know best! The key is that they get the exclusive rights to the brand, plus the added bonus of running their own company. When cofounders Taylor and Corbin started extending the brand to individuals, giving them all our support only felt right. We do so over meetings, instructional videos, our playbook which some call our bible that holds a lot of our journey. We have been there and done that since the dawn of our businesses. Family is number one after all!
Franchising and or franchising mobile bars is a whole other ball game. In general, a franchisor has to produce all kinds of paperwork, policy and procedure to which the franchisee has to abide by. Not only that but there can be many stipulations that are or can be developed. We can use McDonalds as an example. A franchisee buying into McDonalds is required to build or rent on certain land, build to the certain kitchen/dining specs, have a certain menu, manage the staff, pay marketing, and buy all goods, foods, and supplies from McDonalds. Basically, the Franchisor controls everything, this can be really corporate and challenging for any and every business operation. In essence all of these issues can real nickel and dime the newly found business owner. This is not our Tap Truck style, instead we prefer to coach with our answers rather than issue marching orders every minute of the day. 
Tap Truck brings a lot of know how along with its now international branding to the table. The company has built so many trucks, websites, developed so many marketable images along with business know how for expert to the first-time entrepreneur.  We are always so happy to help others develop to save them money, but most importantly time as they build a successful business. We have done it time and again. Moving quick is our skill to help get a great return on investment going. 
Do you see great potential in bringing Tap Truck to your area? Well, we are looking for the right people in the right areas to do just that with the Tap Truck Brand! 
Maybe you always wanted to run your own business?! Here is your big chance! We can begin to build you a custom truck, license the Tap Truck brand to you, and offer our advice to guide you toward becoming a beer truck hero. Jump on Board before your area is snagged!
https://www.taptruckusa.com/pages/licensing-opporunities
Drop us a note in our contact page if you or a family member are interested in bringing Tap Truck to your area!