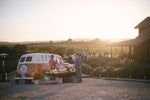 If you're thinking about starting up a mobile bar, you've come to the right place. This blog is packed full of information that will answer many of the questions you may have! We will cover everything from legalities, starting, financials, and other related topics and opportunities for your new startup! So whether you're just starting your research or you are ready to take the plunge into your new venture, keep reading for helpful information on launching a successful mobile bar business! 

As always, we want you to be aware of the amazing opportunity that you have right here with Tap Truck USA! Throughout the past six years we have grown our mobile bar business from humble beginnings, to an exponentially growing Tap Truck family! If you are interested in learning about the special offer we are talking about, I'll leave the link to that right here!  
Question: What is a Mobile Bar? 
This is a great starting point for our conversation! Essentially a mobile bar is a bar that has the ability to travel to almost any event or venue. Nowadays the mobile bar industry has expanded greatly to where there are many different types of mobile bars. For example a mobile bar can mean a physical bar that someone comes and sets up to serve an event. Or it could be a bar on wheels like a Tap Truck, a horse trailer bar, a camper bar, or even a prosecco cart! In many cases mobile bars have the option to come equipped with or without bartenders, depending on the needs of the event. The idea is that the bar is not a fixed location, and has the capacity to set up and serve in a different location.
Question: Is a Mobile Bar Legal? 
With all the different regulations and laws surrounding alcohol, the legality of the service is a great question to ask! A mobile bar can be a very simple business model for the owner, and can provide a great convenience for the other party as well. We have great news for you, mobile bars are completely legal! Of course as long as the mobile bar business is in compliance with local and state laws. Sometimes these can even change from county to county and even on a city basis. With that, another aspect you should be aware of is the liability surrounding the nature of the mobile bar business, we will get to that. 

First, when it comes to the legal side you should consider the legalities of mobile bartending, as well as providing alcohol. This topic is very important as it is such an integral aspect of the business itself. Unfortunately this question does not have a straightforward or easy answer. Each state and local area has its own regulations surrounding the distribution/transportation, selling, and serving of alcohol. With that we always advise that you do your own research on your individual state, and its respective laws regarding alcohol. If this is something you would like to learn more about, we have an interesting post all about common questions regarding liquor licenses. I will link that blog here!

Now onto the liability side! If you are just starting to consider your new mobile bar startup it is very easy to overlook the liability side of the business! This means having insurance on your business, to protect your startup just in case something negative happens. It is also very important that you have qualified and trained bartenders that can help run operations at events for your mobile bar. Why? Well, alcohol being the serious substance that it is, it is important that a bartender supervise and make sure things are running smoothly. This is important for the host of the party as well. If that is you, you definitely don't want any liability falling on you in case of any accident! We always advise both parties to do their due diligence and make sure all legalities are in order.
Question: How do I Start a Mobile Bar Business? 
If building a successful mobile bar business were easy, everyone would do it! One of the first steps in starting your mobile bar business venture is coming up with your unique idea for the business. Something that will differentiate you and attract business to your mobile bar service. Then comes the hard part, the exception of your idea! This is where all the legalities need to get sorted out, and where the money is needed (you need to spend money to make money)!  
At Tap Truck USA we have developed a unique and creative business model within the industry and have had much success. A big part of that success is the story of our brand. We saw all of the challenges that come with a mobile bar startup and we wanted to build a family of Tap Trucks and share our success with ambitious entrepreneurs like yourself. This could be as simple as saving our squad time, money, and answering all questions from licensing, insurance, to the backend of the business. These are all things that you can learn along the way, but if you are interested in streamlining the entire process we would love to connect with you and see if you're a good fit for the Tap Truck squad!
Question: How Much Does it Cost to Start a Mobile Bar/Bartending Business?
Starting your own mobile bartending or bar service can be a very rewarding and exciting endeavor. But before you get too far ahead of yourself, it's important to sit down and figure out how much it's going to cost to get your business off the ground!
If you are interested in starting a bartending business this is a little easier of a startup. For your own bartending business there may be little overhead costs! All you need is a business license, some bartending training (a bartending license would help) or hire an experienced bartender, and a professional uniform! With as little as that you could start your own bartending business and begin making some money! I will link to an outside blog that will go more into depth about a bartending business here.

Then we get to a full mobile bar business. This startup has much more costs and expenses to get the business rolling. First you will need to put some serious thought into what your mobile bar will be. Meaning, will you build out an old trailer, build a Tap Truck, or even construct your own bar cart? Depending on which you chose, obtaining the vehicle or materials to build your mobile bar is a big expense.
Next, you will need to consider the cost of licensing. Since it is a bar service alcohol licensing is needed, and unfortunately this can be costly as well as a headache. We would recommend looking into these two costs first, before proceeding to the rest of the expenses.
Once you have decided on the apparatus that you will run your mobile bar though, and have sorted out the licensing cost/issues, it's time to look at the costs of supplies to run your business. If you're planning on providing cocktails, you'll need to invest in a quality bartending set, which can run you anywhere from $50 to $200. You'll also need glassware, mixers, and other supplies. Depending on how many events you're planning on catering, you may be able to get by with a relatively small investment. However, if you're planning on building a large-scale operation, you may need to spend tons of money on bar supplies alone.
Next, you'll need to think about the cost of marketing and advertising. If you're starting from scratch, you'll need to put some money into getting the word out about your business. This could include building out a website, paying for online ads, or even hiring a PR firm. Again, the amount you'll need to spend will depend on the size and scope of your operation.
Finally, you'll need to factor in the cost of insurance. This is an important expense for any business, but it's especially important for mobile bars, since there's such a big liability/risk factor when dealing with alcohol. Some policies will even provide insurance on your supplies and equipment, it just depends how much you want to spend on insurance!
All told, the cost of starting a mobile bar business can vary widely depending on your individual circumstances. But with some careful planning and budgeting, you can get a clear picture on how much your business idea will cost.
Question: Do Mobile Bars Make Money?
Mobile bars have become increasingly popular in recent years, and it's not hard to see why. They offer a convenient way to have alcohol served at an array of different events, in many different locations, and can be an overall great addition to any party or event. But do mobile bars actually make money? The answer is yes, but it depends on a number of factors. Factors such as, your specific business model, the type of bar you operate, the location, and the demand for your services all play a role in how profitable your business will be.
However, if you have a well-organized business model, and a good marketing strategy, you can definitely make money with a mobile bar business. This and so much more, is the opportunity that you have when you join Tap Truck and become a part of our fleet of vintage beer trucks! If this sounds like something you might be curious about, I'll link to that website right here!
Question: How to get a Liquor License for a Mobile Bar?
This question is always a fun one to answer. With so many different laws and regulations and each state having their own unique laws, it's hard to give a specific answer. But to answer your question I am going to quote from our Liquor License Q&A blog, if you would like to read the full article, it is linked here.
"When it comes to starting your bar service, whether it's a brick & mortar, or a 4 wheel mobile bar machine, you're most likely going to need a liquor license. The reason we say most likely is because liquor laws are regulated state by state. Some states have very loose liquor laws (Georgia), and some have extremely strict liquor laws (Utah). Conducting some research into your respective states' laws would be a great first step into understanding how strict the laws are where you live.
Even though the process can vary state to state, there are still some general steps you can follow. First, check with your state's alcohol beverage control board, whether it's called the ABC (Alcohol Beverage Control), TLC (tobacco liquor control), LB (liquor board), or ATF (alcohol, tobacco, and firearms). Going to their website and filling out some questions on their application will help identify which type of license you will need for your service, we'll go deeper into this topic later on.
Once you have identified which type of license your business will require, fill out the application, and pay the required fees. Once you do this your state will begin the sometimes very lengthy process of reviewing your application, conducting interviews/investigations, and if there are no issues, pass it down to the local authorities for review.
We know that it can be a very time consuming and frustrating process, so be sure to have all of the necessary personal and business information ready, or risk stalling the process even further. Don't worry though, with a little research and planning, you can make the procedure as smooth as possible!"
I Hope that was helpful to the question. If you would like to read more, I will link to the full article again right here!
Question: Where do I get my Business Inspected? 
In the post COVID world, business inspection could be a great topic to wonder about, especially if you have a physical location! When it comes to the mobile bar game, inspectors or state/county regulators may come find you at a public event and make sure you have the proper licensing or permits to operate.
Since business is regulated by county and state by state, it is important to check with the governing body in your area to verify the necessary licensing and inspections to maintain an operational status!
Question: Pandemic Industry That Can Boom In the USA? 
As the world starts to reopen after the Covid-19 pandemic, there will be a huge demand for mobile bars. Whether it's weddings, corporate events or private parties, people will want to celebrate outdoors, and in style! And what better way to do that than with a fully stocked mobile bar? What a wonderful time it is to begin your mobile bar journey! We have no doubt that With a little hard work and some creative thinking, you can make your mobile bar business a success!
Question: Where can I Buy a Beer Truck? 
We are glad you asked! As the beer truck kings, you should connect with us at and not only see our beer trucks but the wonderful business opportunity you have! A successful and tried business model, access to amazing resources & help to get your business going, and most of all a supportive Tap Truck family by your side! If you are ready to join this winning beer truck squad, connect with us today! I'll drop you a link right here, cheers! 
Conclusion 
So there you have it – some questions answered about starting your very own mobile bar business. It's a great way to make some extra cash, and with the right planning and execution, it can be a very profitable venture. If you're interested in getting started, don't hesitate to reach out to us. We would love to help guide you through the process and partner with you on this exciting new journey. Thanks for reading!