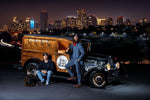 Essential Mobile Bar Liquor License Q&A
So, you're working on getting your mobile bar business off the ground? Congratulations, and welcome to the expanding industry of mobile bar service! As you are probably aware one of the first steps is obtaining that dreaded liquor License. We wish we could tell you this is an easy and straightforward process, but the truth is, that's not always the case. You're probably asking questions like, Do I need a liquor license? How do I get one? What kind of license do I get? Well thanks for asking, we're going to dive into these shortly!
We have grown our mobile bar business 'Tap Truck USA' from humble beginnings into an exponentially expanding Tap Truck family all over the world! If you are interested in learning more about joining our crew, we'd love to connect with you, I'll leave the link to that page right here!  In this article we would like to provide you with some of the most frequently asked questions that we receive from our many licensees regarding the liquor license. Let's get to it! 
Question: How / Where do I get a liquor license?
When it comes to starting your bar service, whether it's a brick & mortar, or a 4 wheel mobile bar machine, you're most likely going to need a liquor license. The reason we say most likely is because liquor laws are regulated state by state. Some states have very loose liquor laws (Georgia), and some have extremely strict liquor laws (Utah). Conducting some research into your respective states' laws would be a great first step into understanding how strict the laws are where you live. 
Even though the process can vary state to state, there are still some general steps you can follow. First, check with your state's alcohol beverage control board, whether it's called the ABC (Alcohol Beverage Control), TLC (tobacco liquor control), LB (liquor board), or ATF (alcohol, tobacco, and firearms). Going to their website and filling out some questions on their application will help identify which type of license you will need for your service, we'll go deeper into this topic later on. 
Once you have identified which type of license your business will require, fill out the application, and pay the required fees. Once you do this your state will begin the sometimes very lengthy process of reviewing your application, conducting interviews/investigations, and if there are no issues, pass it down to the local authorities for review. 
We know that it can be a very time consuming and frustrating process, so be sure to have all of the necessary personal and business information ready, or risk stalling the process even further. Don't worry though, with a little research and planning, you can make the procedure as smooth as possible!
Question: Do I need a Location to have a Liquor License? 
Unfortunately, in most states you are required to have a physical location such as, a restaurant, bar, grocery store, brewery/distillery, etc. This could be a big roadblock in a lot of states especially for our Tap Truck family and mobile bar friends. 
In most cases even to obtain an alcohol catering permit, you may need to have a physical location that you run operations out of. With that, it's not game over, there are obviously ways to get a location that you can base your operation out of. but that's a conversation for another day! 
Question: What Type of Liquor License do I need?
Ah yes, what a great question! There are in fact many different kinds of liquor licenses, depending on the type of business you plan on running, as well as the type of alcoholic beverage you plan on handling! If you are operating a mobile bar for example, you will need to obtain a license/permit that allows you to serve liquor in public/private places other than your own establishment. Whereas if you are running a restaurant or a bar, on the other hand, you need a license that allows you to handle and sell alcohol to your customers within your physical location.  
And of course, it varies state by state. Sorry to keep repeating this, but it's just the name of the game! Some states may require you to have a license for the physical location as well as the permit to do a mobile service / cater other events. As always to find out what type of liquor license your business venture needs, it's best contact your local alcohol licensing authorities! 
Question:
Could I Pick Up Kegs and Deliver for catering? / Could I Purchase and Resell Alcohol to a Client?  
Yes! As always if you want to resell or cater alcohol for clients, you just need the proper licensing to do so! If you are just delivering alcohol to clients you would serve as a 'Distributor', which means you are just getting the beer/wine/spirits to your client.
It is also important to note that the rules for catering and resell may differ depending on who you are working with. For example, the laws for dealing with a brewery may be different than business with a distillery. Make sure you are familiar with the laws in your state so that you can abide by them and avoid any trouble! 
Question: Could I Purchase and
Serve/Sell
Alcohol to a Client? 
Yes, you can sell and serve alcohol to clients as a retailer! Selling and serving alcohol can be a great way to improve your business, and an even better way to connect with your customers! However, there are a few things you need to keep in mind. 
First, make sure you are familiar with the laws in your area regarding alcohol sales. Second, remember that serving alcohol comes with responsibility. Be sure you have the proper training, or to train your staff on how to properly check IDs, cut off customers who have had too much to drink, and handle any other situations that may arise. By taking these precautions, you can ensure that selling alcohol is a positive experience for both you and your customers.
Question: What Liquor License do I need in my state as a Mobile Bar? 
The mobile bar questions, our favorite! Since you're interested, be sure to check out the unique and promising business opportunity you have with Tap Truck! 
This is a question that comes up time and time again. Maybe even one of the most frequently asked, this is how we have answered this one in the past: 
"There is quite a variety from simple states such as: Oregon, Washington, Vermont, Oklahoma, Kentucky, Connecticut, Maine, Massachusetts, that may be as easy as yearly paperwork. 
 Most states might require a restaurant or retail location such as these: Tennessee, California, Colorado, North Carolina, Maryland, Missouri, Montana, Arizona, Delaware, New Hampshire, Texas, Virginia, Ohio, Pennsylvania, Nevada, and New Jersey.
Some states need a food catering company and commissary to work with the sale of alcohol: Florida, Idaho, Illinois, Indiana, Michigan, Minnesota, Mississippi, Nebraska, New Mexico, West Virginia, Wisconsin, Louisiana, Georgia, Hawaii.
 There are states that just need only individual permits pulled each day: New York, Rhode Island, South Carolina, and New Mexico.
 Lastly, there are states that have no real permitting: Alabama, Wyoming, Iowa, Kansas, Alaska, Utah, South Dakota, North Dakota, and Arkansas." 
Question: How do I get an Alcohol Catering License? 
If you are thinking about alcohol at an event, you will most likely need to procure a catering license or permit. This will give you the necessary permission to deliver alcohol to events for clients. In most states, if you already have an existing liquor license, securing a catering license or permit can be a fairly simple addition. In a few states it can be as simple as filling out an application for a catering permit! 
However, in more strict states, if you do not have a liquor license it may be much more difficult to obtain the catering permit. Either way head over to your state's alcohol governing boards website and see what requirements you will need! 
Question: How do I get a Beer Garden Permit? 
Good news. When it comes to beer gardens or other special one-day events, many states offer special permits! These unique one-day permits do tend to have many regulations and special rules around them. Many states have special requirements around the event the beer garden is being hosted at, as well as the specific location within said event. For example, in California there are specific requirements for the fence surrounding the beer garden, as well as visibility into the beer garden, just to name a few. 
It is also very important to be aware of the deadline for requesting a special one-day permit. Many states require you to apply for the permit at least 15 days before the event is hosted. This gives plenty of time for the board to inspect, review, and approve your request. 
Question: Do you need an Alcohol Permit to Bartend: 
For staffing or bartending  a bar, an alcohol permit is not required. However it is always a good idea to get your bartenders certified through a program like L.E.A.D or Servesafe! These programs will provide training on responsible alcohol service and help to reduce your liability!
Question: Do you need an Alcohol Permit to Operate a Mobile Bar? 
In short, no you do not need an alcohol permit to operate a mobile bar! Without the alcohol permit you can provide the rental mobile bar, and bartend the event. Without the liquor license/permit you miss out on the revenue stream by selling alcohol directly to the clients. You also are not able to transport or purchase the alcohol for your client, so you may miss out on providing that service. 
Do not be discouraged though! We have seen many success stories of our Tap Truck mobile bars running their beer truck operations without the liquor license. 
Question: What about a Beer and Wine License? 
As you probably can tell, the process of obtaining a liquor license can be daunting. In contrast, a beer and wine license is relatively simple to secure! In most states it is as simple as filling out an application and paying a fee. Even if your state requires a background check or some other type of investigation, the process is usually pretty straight forward. 
Obviously, the downside is you will not be able to serve hard alcohol or mixed drinks to your clients. However, this can be offset by offering a wider selection of beers and wines, giving your clients plenty of options! Plus with the growing popularity of craft breweries and boutique wineries, you'll most likely have very happy customers! 
Conclusion
Well there you have it, some of the top liquor license questions! As you can tell this topic has so many different laws and regulations surrounding it and for good reason. It is important for us to remember that alcohol used to be a banned substance, and if used irresponsibly can have negative consequences. This is important to keep in mind when jumping into the mobile bar or whatever form of alcohol business you are entering. 
All in all serving great drinks to amazing people is a fantastic time, and an even better way to connect with your community! If you are interested in joining the number one vintage mobile bar service in the land, consider partnering with us! It will never hurt to connect with us and learn all we have to offer. Who knows, you may have just found your next big opportunity! Click here for more information