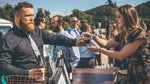 Starting a mobile bar is an incredible opportunity. Deciding what design of vehicle or the type of mobile bar equipment your need is important in establishing your brand. However, making sure you obtain the proper licenses and fill out the required legal paperwork is certainly the MOST important. As I always say, Better be legal!
As our Tap Truck Family has expanded to more locations across the US, we have had to work with local liquor laws to remain compliant in each location. Not the most fun! On the other hand, it is very important that people are served safely and correctly. You have to remember we are trying to legally serve a substance with different laws in all 50 states! If not executed properly, people could become ill from poorly produced or unregulated alcohol. Tragic! For that reason, the government put laws in place to designate clear-cut manufacturers, distributors and retailers. Liquor laws are beneficial for reducing liabilities in serving guests and upholding proper safety standards. As a licensed vendor, we make sure everything is ready to roll as we serve another round!
What kind of license do I need to serve alcohol?
Like any controlled substance, the type of license is based on the product. Are you producing the alcohol or just serving other companies' labels? If you're just serving retail varieties like Lagunitas, Robert Mondavi, or High West Whiskey, beer and wine tend to be less stringent compared to hard alcohol. Overall, the types of alcohol you serve and your particular location should be taken into consideration when deciding which license is needed for your mobile beverage operation.
Can I cater alcohol without a license?
In most cases, you can bartend as long as you have received required training for proper service. That being said, when you supply alcohol and become a one-stop shop for your events, you would need to acquire a license for your business.
Can I deliver alcohol to an event as a caterer?
Mostly likely, this would be the alcohol distributor's responsibility. Usually, a distributor needs to deliver the alcohol to a retailer. In some areas, you can't even pick up alcohol for the client. Also be careful if you're crossing county or state lines!
How do I cater alcohol for events?
It never hurts to learn the logistics and planning for events before hosting, however most knowledge comes from experience. First off, having proper equipment and tools is a must for a flawless event. In just about every case a legal license is needed to serve alcohol at an event, so make sure you get that if you intend to supply the party. Paper work could be needed for each event you serve, but in other instances you just need to obtain a year-long permit.
Can I serve CBD infused drinks?
Interestingly enough, you can according to current federal law! … But you need to make sure you clean your prosecco, wine or beer draft lines very well, especially if infusing with oil. In general, equipment such as barware, glasses, and servingware should always be properly cleaned.
How do I get an alcohol license?
The process begins with visiting your local ABC, TLC or TABC office to get the specifics. This can vary in state, county or even city laws. Be sure you do the proper research when it comes to obtaining your licenses. A background search or lifespan may be needed. Some states do not allow convicted felons to be a shareholder on a liquor license.
Leaping through the hoops and hurdles can take as long as a year to as short as a couple weeks by state. Again, the process depends on the particular permit and other paperwork might be needed. Remaining legally complaint can be a headache, but getting proper documentation can help you reduce liabilities and is not to be taken lightly! If you're interested in starting your own mobile bar, drop us a line and we'd be happy to help! Best of luck in your adventure, and we hope this serves you well in starting your journey!