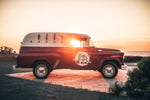 Are you in Hilton Head or surrounding Low Country South Carolina area, and  interested in the mobile bar business? Well then you have come to the right place. Here at Tap Truck USA we are the mobile bar masters! We have grown our mobile bar business from modest beginnings, to an ever expanding family of Tap Trucks around the world! With the great success we experienced, we wanted to share some insight, with other ambitious individuals looking to make their start in the mobile bar industry! Time and time again we have seen motivated entrepreneurs obtain massive success when they take the leap and join the Tap Truck squad! When you join our team you receive so many amazing benefits to assist you on the journey! If you're interested in reading more about those benefits, and why Tap Truck USA is the best and fastest growing mobile bar brand, I'll link to that article here! That said, we have found a perfect area where a Tap truck business would not only thrive, but dominate the market in the region!
There's no doubt starting a mobile bar business is a great idea and business venture. But we're here to tell you why Hilton Head & the surrounding Low Country South Carolina is an amazing location for a new Tap Truck owner! Exciting events, amazing beverage scene, great venues, and gowing localized demand. Hilton Head and the surrounding region have a lot to offer a new Tap Truck business. Keep reading to learn more!
Exciting Events. 
Hilton Head and surrounding regions is a hub for fun and entertaining events! There's always something exciting going on in Hilton Head! Live music can be found almost every night of the week, ranging from local acoustic acts to nationally-touring bands. Festivals are a big deal in Hilton Head too - they've got everything from low-key arts and crafts fairs to major events like the Seafood Festival and Jazz Fest. And of course, there's no shortage of outdoor events.
Everything from golf tournaments, tennis tournaments, and the famous Jeep Island event! Plus, the nightlife scene is pretty fantastic. Whether you're looking for a chill bar to grab a drink or a dance club to let loose, there's never a dull moment. Hilton Head Island also has some of the most beautiful beaches in all of America! I think you can see the point. In this area finding a fun event to attend is never an issue. With all of these amazing festivities and get-togethers, there are endless places a Tap Truck could serve amazing craft beverages, and bring the vintage fun!
Amazing Breweries, Wineries, & Distilleries
When starting your new mobile bar catering business, it's always a plus when there are awesome beverage makers in the area! Connecting and working with local breweries, wineries, and distilleries, is not only a fun way to network with local business, but also a fantastic way to grow your own! Having a deep cultural history, as well as being a highly traveled destination, Hilton Head and the surrounding Low Country region has developed a great alcohol beverage scene!
Some favorite breweries in the area include Hilton Head Brewing Company, Lincoln & South Brewing Company, and Lot 9 Brewing Co. Some of the wineries include Island Winery, and the Silver Dew Winery! The Hilton Head area is even home to some amazing distilleries like the 'Hilton Head Distillery', or the 'Burnt Church Distillery'!
Since we have built up a five star mobile bar brand, these local businesses always love working with our Tap Truck branches! When you become a new Tap Truck mobile bar, networking with these businesses and building out your own reputation will be an ease.
Each one of our special and unique Tap Trucks are equipped with 3-6 free flowing taps. With this you and your clients have plenty of space to make each event memorable. From favorite brews, tasty wine, cocktails, mocktails, or any other kind of beverage. Tap Truck can level up any kind of event, kids birthday party, to wild adult festival!
Great Venues. 
Hilton Head, the beautiful island off the coast of South Carolina that is a popular vacation spot year-round. The island boasts twelve miles of pristine beaches, world-class golf courses, and hundreds of shops and restaurants. It is no wonder that Hilton Head is also a popular spot for weddings, parties, and other special events. With that there are a variety of amazing venues to choose from, whether you are looking for an intimate setting or a grand ballroom. Venues like Palmetto Dunes Oceanfront Resort, The SeaPines Resort, Sonesta, or the Indigo Run Country Club. And with the stunning natural backdrop of the island, Hilton Head is the perfect place to host a memorable event. 
Every venue and any event, big or small, will be elevated even further by your classy & vintage Tap Truck!
Increased Tap Truck Demand in the Area. 
Whether it's a wedding reception, corporate event, or just a night out on the town, there's always a need for good drinks and good service. As the population and the economy of the Hilton Head region continues to grow, so too does the amount of parties and events! This means that the demand for a fantastic mobile bar service is only going up from where it is today! The Hilton Head and surrounding region has seen their population increase, as well as their job market. Hilton Head specifically has seen,
"the job market increase by 1.6% over the last year. Future job growth over the next ten years is expected to be 34.7%, which is higher than the US average of 33.5%" (BestPalces.net). 
This demonstrates that this region is not only growing in population, but the local economy will continue to expand as well.
Although we feel very optimistic about the region. It is still very important that you do the research and ensure that it is a good move for you!  With that, we believe there is a huge upside, and opportunity to dominate the mobile bar market, for the entrepreneur decides to begin their journey with Tap Truck!
Conclusion 
Exciting events, amazing beverage scene, gorgeous venues, and growing demand. What are you waiting for? If you're looking for a great opportunity to get into the mobile bar industry, Hilton Head is the place to be. At Tap Truck we are expanding rapidly and would love to have you join our family of mobile beverage catering machines! We are confident that with your ambition and a full Tap Truck fleet backing you, you can dominate the mobile bar market in Hilton Head and the surrounding region! If you are ready to take the leap and begin your new journey with Tap Truck I will leave the link right here! We look forward to hearing from you. Cheers!