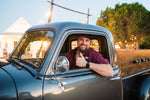 Introducing Tap Truck Texas Hill Country
Get down to Texas Hill Country! We have a special announcement for everyone. Meet your local Tap Truck team! Owners, AJ and Amy, grew up in different parts of the US; Amy was born and raised in California, and AJ was born and raised in Illinois. Eventually, they were led together in central Illinois. They got married, moved to the Texas Hill Country, started a new job, and also helped plant a non-denominational church in New Braunfels, TX. Amy has a gift for hosting and caring for people. She wants to build a business that serves her community and meets the needs of the people they serve (she is also a super awesome mom). AJ has worked in the Heating and Air Conditioning industry for 24 years, but has always enjoyed having a side hustle. As an automotive youtuber (before it was cool), he loved sharing his passion for automotive DIY and created how-to videos for his subscribers.  As a bouncer, bar back, and eventually a bartender, AJ gained a ton of experience and he always wanted to run a business that brought all his random experiences together to create something cool! 
Their ultimate goal is to own a brick and mortar business. Not just any business, though, a 2 acre dog park, beer and wine garden, with a courtyard, live music, kids playground, and food trucks. Meeting other tap truck owners inspired them to begin a new journey into the mobile bar industry. After looking into their options within the industry, they came across Tap Truck USA, when a wedding planner friend told them about "tap truck". Once they googled tap truck and read an article about Corbin and Taylor and Tap Truck got started, Amy and AJ knew it was for them! They considered starting their own independent mobile beverage business, but after meeting two separate owners that called it quits after the pandemic, they decided it was best to join the Tap Truck USA family, and learn from those that continue to succeed post pandemic. Before signing, AJ jumped on a plane to San Diego and worked a few events with the Tap Truck San Diego team. 
AJ (Left) "Tap Daddy" Corbin (Right)
A love of community, people, American classic cars, and great drinks propels them forward. They are so excited to begin serving the fine people of Texas Hill country! Amy and AJ look forward to serving an array of delicious craft beverages both with and without alcohol. Amy loves a good prosecco and enjoys a tasty margarita on the rocks. AJ's taste buds change all the time, but his love for drink mixology has him searching for new drink ideas all across the country. 
His latest find is from Detroit Michigan called the "Uncle Chuck new fashion", a delicious smokey spin on the old fashion classic. Start with 2oz of Del Boc, Mesquite smoked, single malt whiskey from Tucson, AZ (Dorado is preferred). Then add 1oz of Nocello, Walnut liqueur from Italy, then garnish with an orange peel zest and a cocktail cherry. The smokey whiskey with the walnut sweetness is one that will tickle the taste buds. To take it up one more notch, AJ recommends smoking the glass with cherry wood. Not only does he love this drink, but he continues to establish new connections with other local businesses in order to deliver the citizens of the Texas Hill Country a top tier mobile bar experience! 
Meet their fleet: Hank and Minnow.
Hank is Tap Truck Hill Country's 1950 Chevrolet 3100. Hank is a good ol' Hill Country boy, sporting 6 taps out of his wood framed truck bed. His beverage system has been specifically designed to keep the beverages ice cold for the 100*+ summer heat. Hank is powered by a 235cu inch inline 6, upgraded cooling system, and still has his factory 3 on the tree transmission. AJ and Amy hope to give Hank a new LS transplant with an automatic transmission in the future.
Minnow is a 1970 Cushman Truckster. She is a classy lady sporting 3 taps from her custom solid oak cabinet. She is a hit for small weddings as her petite size allows her to be rolled indoors, and she is always ready for a good photo opp. Powered by an 18hp motor paired with a 3 speed manual transmission, she is road worthy with a top speed of 30 MPH. However, she enjoys being trailered to events, and is often co serving events with her custom mixed beverage cart. 
Amy and AJ's favorite event thus far was a "doodle romp" at a local members-only dog park in Gruene, TX. There was some uncertainty about how the event would go and if the tap truck would be a worthwhile expense for the owner of the Dog Park. The event started just after sunset on a beautiful evening, where they served beer and two specialty mixed drinks on tap. Watching 75+ dogs run around while their owners laughed and enjoyed refreshing beverages was a lot of fun. Despite the event having a "ruff crowd", the Tap truck was a huge hit at the park. It was a barking good time, and they were asked to come back and do two more events later in the year. 
Headquartered in New Braunfels, TX, Amy and AJ are open and ready to serve the Hill Country towns between the Western area of Austin and San Antonio! Cities such as Dripping Springs, San Marcos, Seguin, New Braunfels, Bulverde, Boerne, Nelson City, Canyon Lake, and much more! 
Some of the breweries AJ looks forward to partnering and working with include Twisted X Brewing Company, Five Stones Brewery, Vista Brewing, Guadalupe Brewing Company, and Rough House Brewing, just to name a few!  
Here at Tap Truck USA we are more than stoked to be partnering with amazing people such as Amy and AJ. We know they have what it takes to be successful! Their impressive entrepreneurial drive, and desire to connect with people, were a perfect fit for us. We cannot wait to see where this new journey takes them. Keep an eye out on the street for this Tap Truck beast, you just might catch a glimpse of mobile bar perfection! If you are in the Texas Hill Country area and are interested in having this Tap Truck at your next party or event please connect with Tap truck Texas Hill Country, they are so excited to meet you!
Be sure to follow the journey on their instagram and facebook, and stay in the loop with all their wonderful adventures!