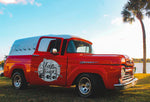 As the Tap Truck USA family continues to grow strong we like to highlight a branch each month that is crushing the game! For the month of December we would like to recognize and introduce you to Tap Truck Orlando!
Oliver Oetterer is the proud owner of this 1960 Ford F-100, named 'Big Red'. Big Red is an absolute monster of a Tap Truck, with a 4.8 liter V-8 engine under her hood!
Growing up in arguably the beer capital of the world, Germany. Oliver grew up with a love of the beer culture as a whole. From a young age of five years old, he used to work and serve at beer events! The experience of making people happy by serving amazing beer, and being surrounded by a rich culture and history, Oliver formed a dream to work in the beer and entertainment industry one day!
As life carried on Oliver had begun a career in Sales. For the most part his career was focused in Public Safety, but in more recent times, he found himself working in Emergency Management.
When Oliver purchased his first home, his wife gifted him a custom made bar, so of course he had a kegerator built in! Not only did it allow him to have tasty ice-cold beer on tap in his home, but it also resparked back his childhood dream to work in the beer and entertainment industry. 
One day when Oliver was speaking to his former boss at his old day job he learned that his boss had recently made a big purchase. His boss had just purchased a Tap Truck, and was about to start a new journey in the mobile bar industry! Oliver was fully inspired, it was just the opportunity he had been waiting for. Having some money stashed away, he figured it would be awesome to invest in a new business and passion, rather than letting his money sit idle. 
After doing some research and investigating this new business idea, he discovered that joining the Tap Truck USA family would be the perfect fit for him and his wife. Oliver's wife and himself already loved entertaining friends and family at their house. Combine that with his deep experience in sales, a passion for tasty beer, and you have the recipe for a successful Tap Truck mobile bar business! 

Deciding to take the leap and begin their Tap Truck journey, they were introduced to their first truck, Big Red! It was love at first sight. The two of them loved the thrill of driving an old American classic vehicle. They really enjoyed cruising the old vintage Ford around town and all the spontaneous adventures and conversations that came along with it. After a speedy learning curve on some of their beginning events they locked down their system on how to run an outstanding mobile bar service! They thoroughly enjoyed being able to serve and share in on people's celebrations and big days. Bringing their beauty of a truck to events of all kinds, guests could not get enough of Big Red! Seeing how they were able to elevate clients' events, and all the amazing feedback they received, they knew this Tap Truck adventure was right for them!

Tap Truck Orlando currently operates in three counties in central Florida, Orange, Osceola, and Seminole. Within these counties the biggest cities are Orlando, Kissimmee and Sanford. They love bringing delicious beers and their amazing Tap Truck all over their cities! In the area there are many prominent breweries that Tap truck Orlando hopes to work and partner with in the future. 

Some of these include; Orlando Brewing, Orange County Brewers, Rock Pit Brewing, MotorWorks Brewing, Sideward Brewing, and Dead Lizard Brewing, just to name a few. So far they have poured many different beers. Brews ranging from Ivanhoe Park 'Joyland', Kona 'Big Wave', Landshark 'Lager', Shock Top 'Belgian White', Breckenridge 'Vanilla Ale'. As well as some of the classics like Bud Light, Michelob Ultra, and Coors Light!

Tap Truck Orlando is equipped and ready for events of all kinds. At the moment they serve at a lot of HomeOwner Association events, and private parties. Looking forward, the team is eager to pour at more private parties, corporate events and weddings! Tap truck Orlando would also love to partner with the Orlando Convention Center.
Oliver is striving to grow his Tap Truck mobile bar business and hopefully expand to own more beer trucks. Eventually he would like to grow his mobile bar catering venture into a flourishing business, and then pass it on to his son when the time comes! Presently, Tap Truck Orlando is killing the game. They are making moves to finish 2022 very strong, and are ready to thrive in 2023!
Here at
Tap Truck USA
we are ecstatic to have Tap Truck Orlando a part of our ever growing squad! Their deep passion for beer, serving, and entertainment makes a perfect fit for our family. We know that with their ambitious and entrepreneurial drive, that they will reach all their goals and conquer in the mobile bar industry! If you would like to track and follow their journey, be sure to connect with them on social media like
Instagram
, and
Facebook
!

And if you are located in the Orlando area be sure to hit up
Tap Truck Orlando
for a top-tier mobile bar service and awesome mobile beverage truck at your next event!
Cheers!