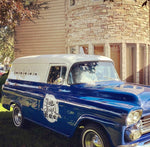 Joe Schaffer and Nick Mancini are the proud owners of Tap Truck Long Island based in New York State. The company proudly serves Montaulk, Oyster Bay and Hempstead with all sorts of weddings, Corporate events and private parties!  For years they have enjoyed hosting parties at their homes and were always interested in the idea of mobile beverage service to turn the party up a notch. It was not until the summer of 2020 when they found themselves with a canceled annual trip to Europe and many of our favorite restaurants shuttering when they decided to revisit the idea. Loving the idea of a classic American Truck paired with a personal beverage choice bringing memorable moments to life and wanting to be a part of Tap Truck.
Joe and Nick met through Jess and Nic their, incredible wives! So here's the little story we have to tell.... It starts with Jessica and Nicole who have known each other for 30+ years and when they met way back in elementary school little did they know their husbands would become best buds and the four of them would travel the world together every summer. Bow you add a beer truck in the mix… and life's an adventure. Between both couples they have 5 kids from ages 16 to 3…. Each one might need a truck! 
Builders by nature, Joe  and Nick want to support local fellow small businesses, energize philanthropic endeavors and bring joy to events across Long Island. With a rich sense of community Tap Truck is the perfect in for events at Old Bethpage Village restoration, The Paramount, and Belmont Racetrack. Not only can tap trucks provide beer, but also wine, margarita mix and even hot chocolate during those December and January Winter months! In the Summer they can get the mobile bar truck out toward Massapequa, East Hampton,  and New Suffolk. 
Their first truck, "AnaCapri'' in all her blue and white majesty is appropriately named after an afternoon set on the tip of Italy's Island of Capri. She is a regal 1959 Chevy Panel Truck in a nice deep blue and white with a roaring engine. . The same hospitality, beauty and joy AnaCapri brought brings them is their goal in serving your next event! They will likely build a fleet of Chevy Task force series as there is a variety of bodies to showcase! 
Email us your thoughts or next recommendation you find even in someone's driveway!  Tap Truck Long Island is excited for Sag Harbor, East Marion, and Great River summers especially the wedding season and spending the day with you and your guests. 
Long Island is rich with Celebrities and their sports teams. Just to name a few: NY Yankees MLB, NY Mets MLB, Brooklyn Nets NBA, NY Knicks NBA, Long Island Ducks Minor league baseball , New York Lizards with lacrosse, New York Cosmos with soccer. When it comes to fall football you have the NY Jets,  and NY Giants with the NFL.
Brewing companies to check out:
Spider Bite Brewing is located in Holbrook, NY with some award winning brews. The founder and master brewer Larry has a cool story in launching his business. 
Oyster Bay Brewing Co.  Makes an awesome bourbon aged imperial stout in the fall that should be top of your list!
Port Jeff Brewing Company is built in Jefferson, NY has a fun brand with its maritime theme. Founded in 2011, they currently  do a log  of great canning. 
Great South Bay Brewery is in a big warehouse in Bay Shore. They offer pints and flights to try more of their styles and flavors. 
Long Ireland Brewery in Riverhead, NY is known for their Celtic Ale. They Crank out a lot of great products and have a nice setup to check out!
Some Cideries that Joe and Nick look forward to tapping are River Head Cider house that is based in Calverton, Ny. Wood Side Cidery is also notable in Aquebogue, NY where they  have their tasting room as well.  
The Long island area also hosts some great wineries for people to enjoy. Channing Daughters Winery is based in Bridgehampton, NY. The Wolffer Estate Vineyard in Sagaponack, NY also hosts weddings of all shapes and sizes! Sannino vineyard is cute with a lovely bed and breakfast to enjoy in the city of Cutchogue, NY.