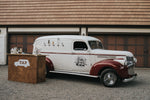 What better place is there for the Tap Truck Brand then the great MidWest states of Moussoiri, Kansas and Oklahoma!? Enter Steve and Kelly Factor based out of Mustang OK. Steve and Kelly Factor have been married for 18 years with four kids. They are very family oriented, always keeping busy with the kids sports and activities! They have an Army Vet son who served in Operation Iraqi Freedom. They have soccer players, Ice skater, Actor, Cross Country runner and a daughter who works for a Congresswoman. So a very busy family, with strong roots! 
Steve has worked in the oil industry for over 20 years and Kelly is a retired Veteran, Commander where her job was Health System Administrator overseeing hospitals and medical clinics. Both Kelly's parents are Marines.With oil shut down and retirement they decided they wanted to do something fun. Like it wouldn't feel like a "job" and where they could be they're own boss. They enjoy the local breweries and wineries and this was just the perfect fit. In OKC they have Bricktown with lots of outdoor events at Scissortail Park and the River Walk for Tap Truck to work well with. The best part about Tap Truck too with the outdoors is that it can travel to Stillwater, Tulsa, or even out to Moore. 
Passionate about meeting new people and their love for classic cars, Steve and Kelly picked a gorgeous 1946 Chevrolet Panel Truck. The truck is a gorgeous maroon / crimson and creamy white. Check out some photos of this beer truck! The colors can fit in well with University of Oklahoma Football.    Maybe not as much with Oklahoma State, but this could be one of the next colors! We need to mention the OKC Dodgers as well as the OKC Thunder basketball because Tap Truck would love to serve at these events as well!
The five taps can serve up a variety. Skydance Brewery with popular beers like Fancy Dance that have Native American themed names to love! Anthem Brewing is another local favorite with their Rad Hombre that hosts a light smooth taste. The Angry Scotsman Brewery has a beer called Factor 50, very fitting in that Factor is the last name-awesome. Great taste, a local fav and we also like their Rusty Kiltpin beer. Lively Brewery has a great smooth Amber lager and also a tasty Mexican lager. There are more great craft breweries in Edmond, and Norman, OK as well. 
On the topic of awesome OKC beverages, OK Cider Co is well known in the Film Row area. Check it out! In The wine realm, The Rusty Nail Winery in Sulphur, OK features over 20 wines, each named after a designed label shoe such as Peep Toe, Little Black Pump, Cinderella's slipper and Dorothy's Ruby Red. Hometown Fav is Woods & Waters Winery in Anadarko, Ok. My fav wine is their Reserve Rose of Caddo (name of my tribe) . It is lightly sweet with an explosion of fruit and berries taste.
If they were to dream of a second gorgeous Tap Truck it would be a Black 51 Ford Pick Up. Probably with a nice wood back to compliment the style and color of the mobile bar. It would scream class at wedding parties and the corporate events where people would celebrate. It could also fit in at the local fairs or a beer festival.
Follow the journey of Tap Truck OKC on instagram or facebook!