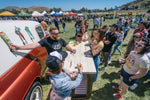 Are you looking to liven up your next outdoor event and give your guests an experience like no other? Look no further than Tap Truck USA! Our fleet of stunning vintage mobile bars is bound to drop jaws and create lasting memories to be shared by you and your guests for years to come. Every one of our beautifully restored vintage vehicles has been transformed into fully functioning mobile bars with the sole purpose of providing good drinks and good vibes!  
At Tap Truck USA, we understand that it's not just about what you do, but more so about how you do it. We like to think that we do it right and unlike anyone else, provide each event with the top-tier Tap Truck Experience! 

Here are a few reasons why you should include Tap Truck at your next outdoor event. 
Unique and Memorable 
When planning any type of event, it's safe to say we've all asked ourselves, "What on Earth can I do that hasn't been done a hundred times before?".The goal is always to provide a memorable experience that will leave your guests with lasting positive impressions. What better way to add a unique touch to your special event than with one of our exquisitely restored Tap Trucks? 
That's right, our vintage mobile bars are the perfect way to add a unique touch to any event. With Tap Truck pouring, you can guarantee that your party attendees will remember this event for years to come. Showing up in style, we can tap anything from - beer, wine, cocktails, and mocktails, to hot chocolate, or any beverage you desire! Not only will your guests be able to sip on delicious drinks, but a Vintage American Classic vehicle is sure to be a conversation starter, photo companion, and spice up any get-together! 
If you would like to see more of our stunning Tap Trucks, check out our Instagram page! 
Ambience and Aesthetics
Another spectacular benefit that our Tap Trucks bring to the table is the atmosphere and ambiance that is created around our beautiful vehicles. Our trucks bring a wide array of aesthetics to your event depending on the vibe and atmosphere that you're looking for. We have trucks of all styles and colors and they can also be decorated and tricked out to match the intended ambiance and setting of your event perfectly!
For example, an event near an old barn would look terrific with a rustic-themed vintage truck with dark reclaimed wood on it, or an elegant wedding would match perfectly with a white or cream-colored classic vehicle. The options are endless as our trucks can be decorated to match any style and any mood. Our trucks can be rigged up to become the focal point of your event and the star of the show, or they can be used as more of a subtle addition to the side to leave room for other things such as a wedding dance floor! A beautiful vintage Tap Truck combined with good music, good drinks, and great friends will create a warm and unique vibe that your guests will want reciprocated at every event that they attend.
Flexibility and Convenience
One of the most distinguishable features about Tap Trucks is that they are bars on wheels. Do you know what wheels are great for? Going places! Our trucks can be staged literally anywhere your heart desires which gives you the freedom to choose the location of your venue free of concern. Whether you're looking to secure a bar for a rural farm wedding, a suburban backyard for a birthday party, or a corporate event in an urban parking lot, our mobile bars will have no trouble making the trek to your desired destination.
Along with the flexibility of our mobile bars, the service itself couldn't be any more convenient. We will go above and beyond to make the process of acquiring all your favorite beverages as easy as possible. Your wish is our command, we can tap and serve any beverage you and your guests would like to enjoy! Your drinks will be poured directly from ice cold kegs within our truck, through our stainless steel free-flowing taps, into a glass, and placed directly into your hand. It's as simple as that when Tap Truck is serving at your event, the only problem will be deciding which drink you want to try next!
Any Drink, Anywhere
Possibly the greatest benefit of Tap Truck and the key factor that makes our operation so versatile is our ability to serve any type of drink, anywhere your event is being held! From beers, wine, specialty cocktails, to a plethora of non-alcoholic beverages, we are able pour your favorite refreshments straight from our free-flowing taps! Some of our favorite refreshments are;
Alcoholic;
Beers: What's better than a cold craft beer at an exciting outdoor get together? We are huge fans of all brews, but what about outdoor specific? Some of our favorites include Hazy IPA's, fruity sour-ales. As well as classic light beers like 'Wheat Beers', and 'Lagers', which are light on the stomach and perfect for those open air outdoor events!
Wines: Wine is another popular beverage, especially for outdoor events. White wines like Sauvignon Blanc or Pinot Grigio are perfect for those cool evenings! These light and crisp beverages compliment the light and relaxed atmosphere of the great outdoors. On warm sunny days, we love to sip on a refreshing glass of rosé, a perfect companion for summer days!
Cocktails: Refreshing cocktails are always a hit at outdoor events! Some of our favorites are margaritas, and mojitos! Margarita with so many different variations, can be tailored to any crowd. Then served over ice to make it a refreshing thirst quenching beverage! Then a classic mojito, sweet, minty, and a Tap Truck favorite.
Non-Alcoholic;
Of course our Tap Trucks can pour non alcoholic beverages too! 
Here are some of our favorites. If your outdoor event is a warm summer day, sodas are a classic choice and can come in an array of flavors. Lemonade is also a favorite for its tart or sweet flavor, as well as bringing the sunshine vibes! Iced tea is another popular pick - it's light, refreshing, and can be easily customized with different types of teas or fruits.
But maybe your party is in the winter time, we also have some favorite non alcoholic beverages for those chilly nights. Hot chocolate is always a crowd favorite with its comforting sweetness and its festive feels. Or fresh coffee, to keep your party awake and fight off those shivers! For added fun, you could even top off these drinks with marshmallows, creamers, and other garnishes!
No matter the type of outdoor event or who's attending, our top-tier Tap Trucks can accommodate and pour drinks for everyone!
Conclusion
If you're looking for a truly special experience at your next outdoor event,
Tap Truck USA
has the perfect solution! Our show room-level mobile bars are the perfect amount of spice to bring your outdoor party to life. Our trucks are built to travel anywhere and serve any drink of your liking. No matter the reason for your event, let one of our Tap Trucks be the icing on the cake, and make for an incredible celebration for you and your guests.
Connect with us today
if you're interested in bringing along a Tap Truck to your next outdoor event!