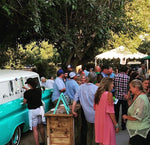 The Greater ATL area is home to many wonderful, must-see (and taste) breweries! Tap Truck always appreciates the craftsmanship of some delicious sudsy goodness, especially refreshing when it can cool you off during a Hotlanta heat wave. Tap Truck has "Hawked" the Atlanta area and experienced some of that famous southern hospitality from the locals to put together this list of some of the best breweries in Atlanta!
Orpheus Brewing - Atlanta, GA
With beautiful views of some of the cities nicest parks, trumpet-player-turned-brewmaster Jason Pellett along with Andrew Lorber opened Orpheus Brewing in 2014. With an emphasis on sours their "Atalanta" was the first packaged sour beer in Georgia! While definitely a must see for sour fanatics, they are also renowned for some other beers in the rotation. One of their flagships "Elusory IPA" is especially delicious!
Reformation Brewery - Woodstock, GA
With three locations in Woodstock, Canton and Smyrna and an extensive grassroots following. Reformation has established themselves as an intricate part of the Georgia craft brew scene. Be sure to try one of their Belgian Style Ales like "Jude" the Belgian Style Tripel that's taken their followers by storm.
Gate City Brewing - Roswell, GA
Founded by two family men hailing from Roswell Georgia, This brewery is very active in live events, community and charity! They may be popular with the people but that hasn't broken there stride towards making the best beers around! Be sure to try their Freedom Fighter IPA as the hoppy proceeds go towards ending human trafficking.
Torched Hop Brewing Company - Atlanta, GA
This one came strongly recommended to me by my family local to Georgia. Torched Hop boasts a huge venue, friendly waitstaff and extensive (reputedly delicious) food menu to go with their rotating taps. While Empress of the Sea is a delicious Gose brewed with real Georgia Peaches call ahead to find out which of their 20 rotating taps might be available for you!
Abide Brewing Company - Newnan, GA
A few years ago Abide opened up as the first brewery in Atlanta suburb Newnan, GA. This one a local favorite among those in southwest Atlanta metro area. With live music and expertly crafted ales,  Abide is sure to make the list of breweries you can have a great experience at especially if your already in the Newnan area, or maybe visiting a relative in Sharpsburg!
Atlanta Brewing Company - Atlanta, GA
Georgia's first Craft Brewery opened up in 1993, The large malt mill was found abandoned in a meadow in England, refurbished and is still in use today. Also known as Red Brick from the period the brewery spent under that name, ABC's commitment to innovation and quality beers makes them one of the best in the business for over 25 years. Be sure to try their "Hoplanta" flagship IPA.
SweetWater Brewing Company - Atlanta, GA
Another one that came highly recommended from Tap Truck USA's Georgia fam! Definitely one of the bigger and well known establishments on the list SweetWater has been pumping suds since 1997! The 4/20 friendly may especially enjoy "Sweetwater 420" or "Dank Tank" for a positive vibration!
Creature Comforts Brewing Co. - Athens, GA
What starte
d as the dream of homebrewer David Stein, Creature Comforts really started taking off when they started building the brewery in a 13,000 sq. foot warehouse in downtown Athens. Be sure to try Tropicalia, it may have a fruity flavor but comes in with quite the kick at 6.6% perfect for a refreshing time down at the pool or one of many of North Georgia's beautiful lakes.
Terrapin Beer Co. - Athens, GA
Debuting "Rye Pale Ale" in 2002 Terrapin has evolved from their humble beginnings to brewing over 90,000 barrels a year! It's also of note that they have their own location at Truist Park (home of the Braves), that you can check out. We here at Tap Truck USA also strongly recommend trying their "Hopsecutioner IPA", but beware at 7.3% you might not want to have more than a couple at a Falcons game or Zac Brown Band concert if you plan on doing much the next day!
Line Creek Brewing - Peachtree City, GA
Named after local natural attraction Line Creek right in the breweries backyard, these guys have had a focus on community since inception! Line Creek is a great laid back place to take a load off. Surrounded by nature, this golf cart friendly establishment is a great environment to try their signature "First Crush" or "Maverick" beers! Maybe afterward grab a tube and go hit up Line Creek, tell 'em Tap Truck USA says Howdy!