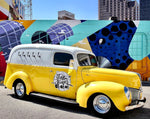 Let's go San Antonio, Texas! We are beyond stoked to introduce Amber and Ashlee Ramierez; owners and operators of Tap Truck San Antonio. Both born and raised in South Texas, these ladies met when their careers collided in the beauty industry and together they established a bikini waxing company! Now, when they aren't busy running their first business, they can be found driving a 1940 Ford Panel Tap Truck that is equipped with five taps.
The two knew they had to think of another way to re-engage their community and clients during the COVID-19 pandemic; starting a Tap Truck was the answer and what better way to do this than to have a party on wheels! They both have loads of prior experience within the service industry, food catering, and bartending scene; so they chose to expand and add to their partnership with something different other than the beauty industry. They came across Tap Truck USA on Google and thought right away San Antonio needed this new and exciting concept! Not only did they love it themselves, but they loved the fact that this is for EVERYONE. Bringing all ages together with classic cars and drinks on tap, the two couldn't wait to join in on the fun!
They can now be found cruising the streets of some of the most iconic venues and places San Antonio has to offer. Find them rolling through Downtown San Antonio, Travis Park, The Pearl, The Alamo, Southtown, San Antonio Fiesta, and New Braunfels just to name a few! These ladies definitely know what the fan favorites are of the local craft brewery scene. They love to pour beers from Busted Sandal Brewing Company, Pearl Brewery, Alamo Beer Company, Ranger Creek Brewing & Distillery, and Blue Star Brewing Company. There are some worthy cider houses and wineries they pour on draft as well. For ciders they love to use Künstler Brewing and Freetail Brewing Co. For local wines they love to source from Dry Comal Creek Vineyards, Winery On The Gruene, and Helotes Creek Winery.
Tap Truck San Antonio is looking forward to all of their scheduled events coming up. They are excited to run beer gardens for NBA games at the San Antonio Spurs Stadium along with WNBA games for the San Antonio Silver Stars! Fiesta Week will be a huge event for Tap Truck San Antonio as well; not to mention San Antonio Pride that has multiple events filled with great crowds, awesome food, and live music. 
Tap Truck USA is very proud to have these two intelligent and outgoing women owning and operating the Tap Truck San Antonio Branch. Their entrepreneurial spirit is motivating and their warm and welcoming personalities are a perfect fit for Tap Truck. If interested in having a Tap Truck at your next party, please be sure to reach out to Tap Truck San Antonio and please be sure to check out their website/Instagram to learn more about their amazing story.