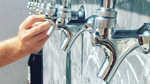 Beer Systems
Dialing in the Suds
We all could admit our favorite beer is an ice cold one, packed with smooth flavor and a decent ABV to back it all up. What an awesome art and incredible amount of work it has taken to make that beer spot by the brewer. One of the best types of art I must say!  From the hoppy to the malty, we are the biggest fans of serving craft beer off the side of our Tap Trucks.
Serving a proper brew all needs to be dialed in with the correct beer system. After all someone has spent years developing a perfect recipe and it is important that the beer is served to standards, the way it is intended to taste. Every ounce of pride and passion that the artist has put into his or her drinkable treat! So once we have picked up that heavy keg, it is our American beer truck duty to serve this to the best of our ability as we arrive in style.
There is an entire science behind beer systems. It really depends which system you using and other potential variables like the draw (length of line). Different beer systems include glycol units, jockey boxes, direct reefer units (cool box, or refrigerators) and forms of kegerators. From there, other smaller details have to be dialed in: gas, pressure, line size, line length, and of course temperature. With our launch of Tap Truck we have learned so much about all of these systems time and again as our business has grown. It has been an incredible journey as we have even built a draft system for a restaurant. It was a big undertaking as it is 110 feet of line to the service side at the opposite end of the property, but we did it!
Beer likes to run smooth with few changes. Fun fact, beer does not freeze until 28 degrees under keg pressure. Beer under greater pressure can get even colder before freezing as it cranks through a line. Beer does not enjoy changes in pressure, for example foamy beer would be created in the change from 3/16 inch line to 1/4 inch line right off such a switch. A simple fix is to space out this adjustment with more 1/4 inch line to tame the suds.
With our flawless systems it is pretty incredible to see how every now and then a brewery might be having kegging issues. We have worked with one brewery that time and again can pour a little funky due to their carbonator. Another once kept having bad seals thanks to a keg cleaner they were using that poked holes in the rubber seal. We popped them a call to help out and they fixed it!
What is the point of purchasing and then building a good beer system if it is not going to be maintained. This is case for routine maintenance after every event, because if lines and faucets are not kept clean it will affect the flavor drastically! Tap Truck is all about this quality as we serve the craft to match our classics. Proper line cleaning techniques are very important, a simple check can even be running water through the line and making sure it tastes like water and not tainted water.
We hope you enjoyed our Tap Truck insights in the world of beer systems as we create our mobile bar experience. Take our word for it, cider, wines and sodas pour a lot smoother than beer!   
If you have any questions, comments or awesome blog content for us, please hit up our contact us page.
-The Tap Truck Team