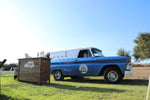 Throughout the year we all have many special occasions to celebrate. Be it birthdays, achievements, special events, or just our favorite holiday, we all look forward to being around the people we love. If you have ever hosted an event you know the pressure of making sure your guests are well taken care of. One of the things to consider is, how will you serve liquid refreshments? When it comes to hosting events, there's nothing like a mobile bar to pour and serve drinks at your event! There is one top-tier mobile beverage catering service that goes above and beyond to provide all events with an amazing experience, Tap Truck USA!
At Tap Truck USA our fleet of vintage mobile bars are more than just functional; they add an element of style and class to your event. Whether you're hosting a wedding, birthday party, corporate event, or any other type of celebration, our vintage mobile bars are sure to impress your guests with their rustic design and top-tier tap service. Let's explore some of the best occasions to book Tap Truck USA, a mobile bar catering service. 
Weddings
When planning a wedding, extensive coordination and planning are necessary to ensure the day runs smoothly. From selecting a venue to organizing food and music, couples must manage an array of tasks and vendors. One of these tasks is the beverages. 
At Tap Truck USA one of the most popular events to book our vintage mobile bars for is weddings. Not only will it add a unique and charming touch to your venue, but it also allows you to customize the drinks that are served during the event. With signature cocktails or craft beers from local breweries, you can make sure that every guest is taken care of.
No matter if the ceremony is indoor or outdoor. As long as our Tap Truck can fit, we can serve! Furthermore, by choosing Tap Truck USA, you won't need to worry about any additional equipment or setup required. Making the day run smoothly and taking one more thing off your busy plate!
Corporate Events
If you're in the midst of planning a corporate event, you're likely feeling the pressure to make it a success. The good news is, corporate events hold so much potential for team-building, networking, and generating excitement within your company. Whether you're planning a large-scale conference or a smaller team building activity, the key is to focus on creating an experience that brings people together and fosters engagement. The way to achieve this is by incorporating a Tap Truck mobile bar into your event. Our mobile bars not only add a touch of fun, but also creates a unique opportunity for employees & guests to socialize, relax, and enjoy their time together. Our classic restored Tap Trucks are also the perfect conversation starter, bringing so many different interests together!
With the ability to tap any beverage your community desires, our Tap Trucks can cater to everyone's taste and help break the ice between attendees! 
Birthday Parties 
Ah, another trip around the sun, and a perfect time to celebrate! Birthdays are another perfect event to have a vintage mobile bar serve delicious beverages. Whether it's for a milestone birthday, such as a 21st or 50th, or just an intimate gathering of close friends, having a Tap Truck will help make the special day even more memorable. You can customize the drinks to fit the guest of honor's preferences, such as serving their favorite cocktails or craft beer. You can also tailor the beverage line-up to account for all people, like having a non-alcoholic option, or having a fun children's beverage!
Tap Truck's Classic mobile bars also serve as amazing photoshoot props! With a touch of nostalgia and class, your guests will look stunning with a vintage vehicle next to them. Talk about lifelong memories! 
Outdoor Events 
Ready to have a grand time in the great outdoors? Our Tap Trucks are the answer to your outdoor event bar needs!  Tap Truck mobile bars are an innovative way to bring the bar to your event, no matter where it's located. Our trucks can traverse any terrain, from rural farm weddings to suburban backyard birthday parties, to urban corporate events, ensuring that everyone can join in the fun. With our mobile bars, you have complete freedom over where your event is situated; no longer do you have to worry about finding a pre-existing establishment that fits your needs. You can serve up drinks almost anywhere and whenever you want!  You just let us know where and when!
If you would like to read more about why Tap Trucks are perfect for outdoor events, click here to read more!
Holiday parties
Sprinkled throughout the year holiday parties are always a blast! But if it's your turn to plan the get-together, we understand the pressure. Let's make sure this year's party is a hit with a Tap Truck!
Our vintage mobile bars are an excellent addition to any holiday party. Whether you are hosting a corporate Christmas gathering, a New Year's Eve bash, or a Halloween costume party, everyone will be able to enjoy the festive atmosphere and delicious drinks that come along with the Tap Truck experience. Not only will it bring an exciting spark to the occasion, but it will also ensure that your guests have top-tier service when it comes to their beverages. 
When you choose our vintage mobile bars for your holiday party, you can customize the drinks to fit the theme of the event. For example, taping-up delicious hot cocoa and Holiday Mai Tai's for your Christmas gathering or pouring some spooky cocktails for your Halloween costume party. You could even offer signature drinks tailored just to your special celebration so that your guests can mix and mingle while they enjoy something creative! 
We are sure to bring the fun, but leave lifelong memories! Your guests will likely be talking about your party long after the holiday season has passed! 
Conclusion
In conclusion, booking a vintage mobile bar catering service like Tap Truck USA is a great idea for any event, from intimate gatherings to large celebrations. Not only does it add an element of convenience, but it also provides a unique atmosphere that will wow your guests. From crafty brews and cocktails to delicious wine and spirits, you can tailor the selection to suit your guests' preferences and create a truly unforgettable experience.