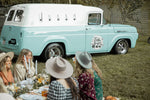 What is a mobile bar?
A pretty basic question. It is a bar that can come to you or a venue. You should be able to hire it for a number of hours with or without bartenders. The majority  of times you will be wanting it to come with the bartenders. Mobile bars might have the ability to even provide the beer and wine, or if licensing permits for hard liquor! Mobile bars can be as simple as the built bar table, a champagne cotton candy cart, a Tap Truck or a camper bar.
Is a mobile bar legal?
A very important question. If it wasn't legal would you still do it? ha There is an even more important moral question for yourself! 
Of course mobile bars are legal. It can be a very simple business model. Mobile bartending can be its own thing, or separate bill. While providing alcohol can be another. So those two services for a party can be separate. And the answer regarding legal is more based on local laws/ permits.
Understand there is a different legal world with liabilities. Heck that is why as a customer hiring a mobile bar or bartender is important. You don't want a guest legal age or not making some poor decisions and affecting more than just themselves. If you just let open bottles of alcohol around at the party there is not as much accountability for what can happen. And so the host could be responsible for all of that. Yikes! 
When it comes to permits with the local laws this is really where the legal process begins for a mobile bar. Usually state permits can get granted regarding the license that is needed. This can be very true from South Carolina, to Georgia and Tennessee. Do some research and we wish you the best of luck!! 
How do I start a mobile bar business?
If it was easy everyone would do it!  It really depends on the direction you want to go. Maybe a horse trailer, or a Tap Truck (beer truck),  or a cute Prosecco cart. The idea might be there but the execution is the tough part. This is really why we found ourselves creating basically a wandering bar collective of Tap Trucks! We wanted to help a family answer all these questions to save them time and most importantly money. From questions with insurances, to liquor laws, to simple how to quote for a certain client. These are all things you can learn along the way, or again link up with us to get you dialed in out the gate with one of our chugalug wagons! Word of advice for the veteran entrepreneur as well as the first timer, get a checklist going! 
How much does it cost to start a mobile bartending business?
Certainly the most important question. A bartender staffing company could cost as low as 100 bucks!   Ha think about this you could start a staffing company, you might need a good outfit, business license, bartender license and boom you could be off to the races working for friends! But to build a trailer bar, or build a Tap Truck (beer truck), or a custom built champagne cart would be a different cost out the gate. Approaching a liquor license can be expensive as well. When it comes to marketing, website, and other materials your initial start up could skyrocket based on the vision! 
Do mobile bars make money?
Being in business it is important to make money. Having a focus to pave the way and stack coins is the reason for providing. Providing for family, for employees and their family's, these are all factors that really drive the success of the business. But more and more this industry has competitors. A winning formula is what sets Tap Truck apart from the others. To understand profitably, and save time and money is what we help do for our growing family.
https://www.taptruckusa.com/pages/licensing-opporunities
how to get a liquor license for a food truck?
In States like Oregon, Ohio and Michigan it might be really easy to add on the license. Sometimes you just need like a kitchen, and food trucks have commercial commissaries or should. So that might be easy. But this again depends on the state or county office when it comes to the liquor permit.  
A note to be made is that marketing beer through the food truck is a little more of a challenge. Having a cold beer is nice, but a giant food truck arriving just to serve beer to guests might not be the most aesthetically pleasing. Those suckers are huge and heavy!!! 
Where do I get inspected for my business starting?
If this is a covid related question, usually this is with the health department. If you have a location then usually you need to be inspected before you open. It is important to do all research and run through print outs on today's 2020 world of what needs to be done in terms of pandemic. In terms of a mobile bar they might tend to find you at a public event, say a  festival to check on your work. If you're serving food then it is a different process compared to just alcohol. 
Covid  (Coronavirus) Business Ideas USA? Pandemic Business Industries that can boom
It has been crazy as you see. Wow we all would have loved to be in the sanitizer, toilet paper business in early 2020! We have seen the construction industry boom and beer sales shift from kegs to cans and in store connections.  All of these factors, what is around the corner are we have seen states and counties shut down businesses. So what is to come back strong in 2021? Even 2022? We have seen a boom in our locations and interstate's across  the map! We are seeing a lot more outdoor events so I think the mobile bar realm is bound to boom! 
Where do I buy a mobile bar? Where do I buy a beer truck? Horse trailer bar for sale? 
For beer trucks, hit up Tap Truck yesterday!  A mobile bar hit up Tap Truck (link below)! A horse Trailer bar, ask us our favorites privately! Piaggio Ape bar, we might have a connection or two!