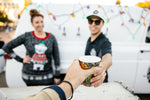 What? Wait? Really? Is it possible? You bet it is!
Your one and only Tap Truck family can and will make this liquid molten magic happen. About this time every year, as the weather changes we began getting requests for hot beverages.
We are used to making Coffee, both caffeinated and decaffeinated at all types of weddings. We love to roll out the hazelnut cream, sugar in the raw, and all the fixings to taste. Usually higher end types of gigs are where guests and the client are looking for that next level service to keep people on their feet coffee service. This is easy and on a smaller scale, so we usually bring the simple coffee maker so she is brewed fresh and hot!
We can do that same coffee maker set up for multiple for items like hot chocolate and hot apple cider too! On a grand scale and true to our name, next level service of having the actual hot coco and the cider on tap is indeed possible!
Most of the time when pouring an ice cold margarita on tap, we have  to use our proprietary recipe and tricks to make this happen deliciously. Serving a cold beverage is something very normal for our beer truck. So flipping the script from having a normal beer system in cold function, to serving something hot is a little outside the box. This can create some headaches. 
Things we are super conscious of are flavor and health when you jump over to serving these hot items. Another note is we have to swap up our beer system gases, so we don't carbonate the hot cocoa or cider. If liquid becomes carbonated it can even change the flavor.
So how do we serve the chocolate hot when it is supposed to be passed through a cold beer system? We simply reverse the system and keep things cranking with heat. Also making the beverage hot to begin with is the key! So batch together a bunch of goodness and keep it hot!
Our favorite mixes for hot chocolate include:
Ghirardelli Chocolate Company - which started in San Francisco.
Hershey Chocolate - Built in Pennsylvania, I love using milk and  cream with the syrup mix on this!
Nestle - Headquartered in Vevey, Switzerland - but works with a number of 300 locations across the USA including Oregon and Ohio. The big packs are great for bulk recipes.
Swiss Miss - with its manufacturing Menomonie, Wisconsin is where they crank out a lot of product that ships from California to Florida!
Hot Apple Cider recipes are really nice to follow. And there are a lot of organic inspirations found online! You can add your own touch just by basing how much cinnamon, cloves or orange you are looking for to flavor the recipe.
When you garnish the drinks it is super fun to have candy stir sticks, even candy cane stir sticks for that peppermint touch. 
Whatever you are making, don't forget the whipped cream!!