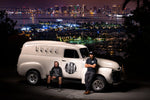 Becoming Your Own Mobile Bar Boss 
Creating your own mobile bar business can be a dream come true. It's a wonderful way to help your clients that want a fully customized mobile bar for their event, and you can easily step away from any 9 to 5 job. Being a mobile bar or tap truck entrepreneur does come with its fair share of challenges. But in the end, the potential is great, and it surpasses any of the challenges that might arise. Here are the things to keep in mind if you want to create your own mobile bar business.
Get an alcohol permit and license your brand
It's very important to acquire an alcohol permit, as this is what will allow you to serve any type of alcoholic drinks to your customers. Figuring out a brand name and licensing the brand is also very important, since you want to have a fully legal, certified business that you can start focusing on to make all the money you want. 
Focus on the business basics
You need to create some financial projections based on your expenses and estimates. Simply put, this is a business, and you do need to figure out how much you need to invest, what ROI you can expect and so on. Then you also have to invest in things like business insurance and liability insurance. Some municipalities will also require a specialized license, so you may have to get that too.
Purchase equipment 
Getting the best equipment is very important here. Ideally you want to have a mobile beer truck or mobile bar in general. You can take a loan or just buy an older model and recondition it. Then you want to add all the mobile bar features like specialized drink canisters and so on. The more you add, the better the results you can get.
Buy alcohol from wholesalers
Obviously, you need to buy alcohol wholesale, otherwise you will cut some of your profits. Finding a reputable wholesaler that delivers the best return on investment is what you want to go for. Ideally you want to test out multiple wholesalers and see what results they can provide. Then you just go with the one that truly delivers an amazing quality for the money.
Start finding clients
You will find a variety of clients online on various job boards and so on. You can also promote your business via Google or social media ads, those can make it easy for potential customers to find you. Constant promotion and marketing are extremely important, since that's how you will get clients most of the time. You will eventually have recommendations from previous clients, but online ads can be a great starting point.
Starting your own mobile bar business is not always going to be easy. But it does bring in a variety of great benefits. You get to become an entrepreneur, fully customize your business and push it to the next level. Plus, you have complete control, and you can easily expand this into your own mobile bar franchise. It all comes down to following your dreams and using these tips to start your business!